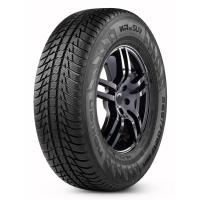 Nokian WR G3 Reviews (newest first) - Page 1
Given
81%
while driving a
Volvo XC70 II AWD 3.2I
(235/50 R18 V) on
a combination of roads
for 45,000
average
miles
This is a good tyre overall, is not designed for deep snow or country roads during winter. It is ok for City and highway roads during winter time with rally good grip.
For summer it not performance but is good enough for normal speeds.
My only disappointment is that the wear goes too fast. As after 45000km my fronts are not good enough for the next 3rd winter, and my back's still can do one last winter this time.

So the thread wear is not near the 80.000km that they say.
Given
67%
while driving a
Toyota Camry
(225/60 R16) on
mostly town
for 17,000
easy going
miles
My rear tyres were at 100 percent wear after just 16 months and 27,000 km. The front tyres were totally fine (normal wear). I took it back to the shop to have it checked before a somewhat longer road trip because I had noticed intermittent road noise that I thought was from the tyres. The shop I purchased them from said it was probably the alignment but quickly changed their mind when I told them they had done a 4 wheel alignment when I bought the tyres.

Now I know some people at this point might jump to conclusions about how I drive, but I'm 60 years old, don't ever go more than 10 kmph over the speed limit. I haven't had any accidents or "run over" anything, I drive a combination of city and highway, the vehicle is front wheel drive and has 4 cylinders.

I have really enjoyed the abilities of these tyres on wet and icy roads, so I'm disappointed with the wear, even though the handling on corners is sloppy compared to the Michelin 3 season tyres I had on the car for 80,000 kms previously.

What do I really suspect? I questioned the amount of adjustment (especially on the rear wheels) when I had the alignment checked (done) when I bought the new Nokian Tyres. I had no unusual wear on the Michelin's prior to their replacement. I think the technician screwed up and took my rear wheels out of alignment causing the excessive wear. Hard to blame the Nokian tyres, but effectively the shop I bought them from seems to be.
Mounted on Jeep Renegade Trailhawk since no chains fit this vehicle. I've driven High mountain snow and desert heat 118 degrees F. The road feed-back excellent. Very impressed with how they "stick" in wet weather. I was a little upset when I discovered the no-chain problem with 17 inch rim. I can't say enough about the security I've felt with this tire.
Dry grip no better than a budget tyre wet grip slightly better
Snow no roblen climbing any hill but tricky coming back down
Wouldn't buy them again
Car used vw Passat
Given
89%
while driving a
Audi A4
(225/45 R17) on
mostly motorways
for 20,000
average
miles
nokian tyres are eccellent winter tyres but still long way to go for same quality summer tyres, run nokian winter in norway and spain top class summer nokian in norway it may be ok but in spain you feel them melting
Just purchased 4 Nokian WRG3 tyres for my 2009 Hyundai Genesis premium sedan. Since this car is RWD it is critically important that they be able to handle the harsh and snowy winter here in Boston, MA USA. Thus far we have only had fall weather and some heavy rain, yet I can tell that these tyres will be every bit as secure and serene as the Nokian WRG 2 tyres I replaced. Best of all, although they are classified as a winter tyre, I plan to leave them on for all four season year-round here, as they perform extremely well in all conditions.
Given
89%
while driving a
BMW 320D M Sport
(205/55 R16 H) on
mostly town
for 2,000
spirited
miles
Used these over 2 Winters & 1 *cough* summer in NE England.
Last summer was that cold & wet they never got taken off!
But in the cold/wet is where the excel, Masses of grip & stopping is never a problem.
Under hard cornering & on wet roundabouts there is enough feedback to drift the tail out, if you so desire.
Felt nice & safe when there was snow on the ground. Plenty of grip.
I don't do loads of miles , so wear isn't really a factor when buying tyres for me.
Price is really reasonable, less than £100 / corner.
I am so impressed, I think I will be replacing my 'summer' tyres with Nokian zLines in the near future.