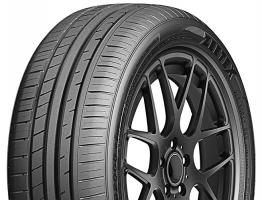 Zeetex HP2000 vfm Reviews (newest first) - Page 1
Very silent, car feels les road imperfections compared to pirelli p7, but comfort comes at a price of handling, steering feedback. Feels like 1 inch smaller in diameter to be honest. Grip is there, tyres are safe, but not high performance. At this price they are unbeatable, but would consider them as touring tyres, not high performance ones. This is initial review, will update my thougts after a few more thousands miles
Given
94%
while driving a
Alfa Romeo 156 JTD
(225/45 R17) on
a combination of roads
for 20,000
average
miles
Thanks for cheap and very good tyre

Had these fitted as I needed tyres in a hurry and on a tight budget.
They were cheap for a reason.
About 8 months fitted and they're worn out, down the the wear markers. My yearly average is 5000 miles, and that's steady old man motoring.

Back to Avon or Falken without a doubt.
Given
95%
while driving a
MINI Cooper S
(215/45 R17) on
a combination of roads
for 500
spirited
miles
Put these zeetex on my r52 cooper S . 215 40 r17 And firstly . They are so quiet compared to the P8s if just took off . I took them on a spirited dry B road run really gave it some round the lanes . No squealing just grip good feed back through the steering . Even lifted a rear wheel whilst cornering fast and only felt a little flex .totally happy .comfy quiet grippy i havent had them long enough to see how they wear . But I've done a bout 500 miles on them so far on all road types . Motorway . A road . B road . Urban . Speed humps potholes etc . No complaints . πŸ'πŸ'πŸ'πŸ'πŸ'
Given
90%
while driving a
Citroλn C Elysee
(195/55 R16 V) on
a combination of roads
for 5,000
average
miles
Good tires in everything.
Given
91%
while driving a
Peugeot RCZ GT 156THP
(235/45 R18) on
a combination of roads
for 640
average
miles
purchased 4 new zeetex HP2000 vfm and have found them good at handling on wet and dry on a RCZ sports coupe and well priced