The Altimax A/S 365 with its directional design, provides reliable mobility for compact to upper mid-range cars 365 days a year. With its solid shoulder blocks arranged longitudinally, lateral grooves and numerous sipes in the middle of the tread pattern, this tyre offers many gripping edges for optimum grip and braking performance on both summer and wintry road surfaces, as well as providing good protection against aquaplaning. The Altimax A/S 365 is now produced in 30 sizes for 14- to 18-inch rims with aspect ratios between 70 and 40 percent. Available in widths from 155 to 225 millimetres, it is now approved for speeds of up to 186 mph.
Tyre Reviews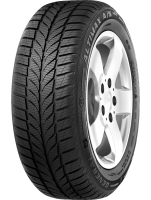 Sorry, we don't currently have any label data for the General Altimax AS 365
Sorry, we don't currently have any questions and answers for the General Altimax AS 365. Why not submit a question to our tyre experts using the form below!
Ask a question
We will never publish or share your email address
Have you driven on the General Altimax AS 365 tyre?
Have YOU got experience with the General Altimax AS 365? Help millions of other tyre buyers
Latest General Altimax AS 365 Reviews
Given
93%
while driving a
Audi A4 1.9 TDI
(205/55 R16) on
mostly country roads
for 14,000
average
miles
I have General 365 tyres for over one year and all I can say, they are great tyres.
Wet grip is fantastic on wet UK roads, great feedback even if suddenly aquaplaning if you suddenly hit deep puddle. Let's face it if you are going to fast on deep sudden puddles there is no tyre which wouldn't struggle with disposing water efficiently. Unfortunately in UK we have lots of rain and deep puddles, especially on countryside.
Most importantly these tyres allowing you controlling vehicle even on very wet surfaces.
In winter condition (no snow but temp below 7C) grip is great. You can easy perform quick test of emergency breaking and you'll be very surprised like myself how much actually grip they give you. Very happy.
In 2018 winter-snow condition, I have to say they took me out from even deep snow, where lots cars struggle on summer tyres.
Over all highly recommending.
It's wort to add that after 14k miles still 5mm remaining on FWD(front axle) car. I hope they will rich 20k miles which is great for mid size FWD car driven 90% on country roads(accelerating braking).
Given
57%
while driving a
Ford Focus MK1
(195/65 R15 H) on
a combination of roads
for 4,000
average
miles
These tyres takes quite a bit of wearing in before they start to perform better. I fitted these in July - in the beginning, they squirmed in the dry and were poor under dry braking. Steering was very vague. On damp, greasy roads, they were terrible! However, they were not too bad on drenched roads - performing well.

After some 2,000 miles, traction improved in wet and dry but steering was still vague.

It snowed recently, these tyres performed superbly! There was a lot of confidence in snow and slush. They allowed the car to drive up a frozen compacted snowy hilly road. Other cars on summer tyres were either stranded or forced to retreat back down the hill. Nothing seemed a problem really. I would definitely say these tyres have a biased toward cold weather.

They have been on the car for over 4,000 miles now. Still plenty life left but then again, my car is certainly not the most demanding in terms of tyres. I wouldn't say I wouldn't ever buy again but very low on the list as there are certainly much better all season tyres on the market. They are quite comfortable ride wise but noisy on wet roads, mainly due to the amount of spray they whip up.