The Dunlop Sportsmart is a Max Performance Summer tyre designed to be fitted to Motorcycles.
This tyre has been replaced by the Dunlop SportSmart 2.
Tyre Reviews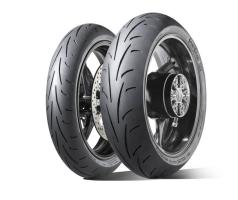 Sorry, we don't currently have any magazine tyre tests for the Dunlop Sportsmart
Sorry, we don't currently have any label data for the Dunlop Sportsmart
Questions and Answers for the Dunlop Sportsmart
2017-02-26 - I ride a cbr 900rr 2001 honda fireblade. What are the recommended front/rear tyre pessures for general foad use for my Dunlop sportmart mt.
Unfortunately we're unable to give specific answers on pressures. Your motorcycle handbook or Honda will be able to answer that as tyre pressures are vehicle, not tyre specific.
---
2019-02-19 - What tyre pressure should i use for track day on these tyres front/back? (Dunlop sportsmart tt) I ride a SUZUKI GSXR 600 K8
I'm afraid my knowledge of track day bike pressures is very limited, you'd be better off asking on a bike track day forum, sorry!
---
Ask a question
We will never publish or share your email address
Top 3 Dunlop Sportsmart Reviews
Given
83%
while driving a
Suzuki B King
(225/45 R17) on
mostly country roads
for 3,500
average
miles
An excellent all-rounder. Good combination of grip and life.
Coped with the big torque, power and weight of the B-King.
The N-TEC construction is stiff and finds all the bumps. I found reducing the tyre pressures gave an improvement if feel and handling.
Riding solo on road I used 33F 36R.
Given
91%
while driving a
Kawasaki ZX6R
(180/55 R17 W) on
mostly country roads
for 5,000
spirited
miles
Nearly 5000 miles on these tyres and Ive just gotten onto the wear bars. Very good even wear despite commuting for the first 3000 miles.

Extremely confident inspiring - 120mph knee drag and powerslides up to around 150mph. The tyre doesnt reach a "cliff" when grip runs out, instead it just taps you on the shoulder and gives you a quiet warning.

At the end of the tyres life, the grip doesnt just disappear, instead you start getting slides more frequently - I have had a few front end slides but more rear from early and abrupt throttle application.

These tyres really take a hammering and soak up bumps beautifully. These tyres also enable me to keep up with my buddy who uses D211 GP Racers
Given
77%
while driving a
Honda CBR600F Y 2000
(180/55 R17) on
a combination of roads
for 3,000
spirited
miles
Good tyre but had loads of trouble with back tyre going down, had to pump it up every time i wanted to go out and the rear is bald after only 3000 miles. Bought another rim and had it repowder coated and the tyre still lost air, it always seemed to go down to about 20psi a week. Front tyre is still good and hasen't been any trouble. Going to buy again but if this one goes down will be getting the shop to swap it right away this time. When changing the pair will be looking at another make though...
Have you driven on the Dunlop Sportsmart tyre?
Have YOU got experience with the Dunlop Sportsmart? Help millions of other tyre buyers
Latest Dunlop Sportsmart Reviews
Given
90%
while driving a
Suzuki GSXR 1000 K6
(190/50 R17) on
a combination of roads
for 7,500
average
miles
I am on my 4th rear 3rd front, I have used these tyres all year round pretty much since they were released, my last rear I got 7.5k miles out of, they were just starting to square off and I had a 2k euro trip lined up otherwise I believe I would have hot 8k miles out of them. I am truly amazed at how little mileage some have been getting from theirs going by some of the other reviews, the lowest mileage I got out of a set was abou 4.5k but that was the onlt set to date I have done a track day on. Hot, Cold, wet or dry I always have confidence in these tyres and I for one seem to get touring tyre mileage out of this sport/track focused tyre. I recomend them to anyone who asks, not many take me up on the suggestion but no one who has has ever complained.
Given
84%
while driving a
Suzuki Sv650s
(180/55 R17 W) on
a combination of roads
for 4,000
spirited
miles
Got caught out at Ramsey twice last year, TT and Manx GP. No matter, long way round or over the mountain to my digs....over the mountain! Even when the fog closed in on a soaking road with standing water I felt safe on these and was close to 150 on the mountain mile without a wobble. They have served me proud and I have just replaced them after 4000 HARD ridden miles. I ride fast roads and they allow you to get good stable lean angles at all times. I use 34 front and drop the rear to 36 for everyday use and as low as 33 when going stupid ( on closed roads.....mmmm).
Given
81%
while driving a
Yamaha R1
(190/50 R17) on
mostly town
for 2,000
spirited
miles
I ride a ten year old R1. It eats tyres and it ate these too ..... but ....
I haven't had a track and 'swift' road riding tyre that offers similar dry grip which has lasted as long. (Pirellis came close but not all that close). More importantly for me, 'cos I also commute on the bike, is what happens when it rains .... and NOTHING I've ridden which have similar dry high performance characteristics of these things gets anywhere close in the wet.
They're pretty worn now (I really came here to find prices for my next pair). Last week it had rained and stopped but the road was damp. A loon in a 4x4 slammed on for no good reason just as I was pulling in from overtaking a couple of cars behind it. I had to brake so hard the bike pulled an involuntary stoppie - and they stayed well planted ..... on a damp road.
They're not as good in the wet as the pilot 3s on my missus BM but they're a hard act to beat.
Given
96%
while driving a
Triumph Daytona 675
(225/45 R17) on
a combination of roads
for 6,500
spirited
miles
Made the switch to these from the diablo corsa's that my 675 came with out of the shop, I hated the feeling of being like bambi on ice when it came to being out on a slightly wet road. So I decided to give these a go. I'll admit I came off the bike while scrubbing them in, so barely had 100 miles on them. If I'd known then what I'd known now about how grippy the tyre was, I would of pushed the tyres onto the edges instead of standing it up. In all the dunlops are a fantastic tyre, the grip in both dry and wet gave me plenty of confidence even after my earlier spill on them. I'll ride in all weathers except the most extreme, snow and ice are where I draw the line, but having been caught in quite a few heavy downpours I'd have to say that they did the job amazingly well. As for how long they'll last I've pushed mine rather hard, high speeds, twisty roads, the lot and they're just coming up to 6500+ miles, needing to change them now, but they've lasted a good while in the process. Well recommended for anyone who wants a tyre that'll give plnety of grip in the dry or wet and won't need replacing after over a couple 1000 miles.
Given
90%
while driving a
Yamaha 2002 R6
(225/45 R17) on
mostly country roads
for 4,000
spirited
miles
Had these on for 500 miles
Cracking tyre. Warms up fast etc. looked at the D211 but choose these for lnoger life.
Pressures running 34f 32R and so so much grip for road riding.
Gave confidence to bank the bike over and slam the knee down, Even when it starts to slide, its very easy to control and hold.
Cant wait to get on track with them.
Will buy again