Autocar Tyre Test - Budget Tyre Performance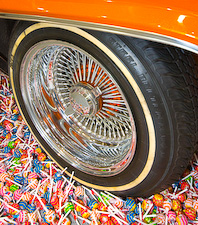 Autocar's latest tyre test is all about budget tyres - and how they perform compared to a premium road tyre by Continental. Unsurprisingly, they don't compare well! The test focuses on wet weather handling and tests five of the leading budget brands: GT Radial, Linglong, Nankang, Triangle and Wanli.
The magazine tested wet handling and braking, dry handling and braking and aquaplaning, plus a high-speed test at the Contidrom test centre in Hannover. Senior tester Jamie Corstorphine summed up with: ??We expected the bargain tyres in this test to fall short of the Continental, but we were not prepared for just how poorly some performed.??
The results are shocking. To get the full test results you'll need to buy autocar this month, but the results from the wet braking speak for themselves:
Continental:
31.7 metres
Nankang:
33.8 metres
GT Radial:
35.8 metres
Wanli, Triangle and Linglongs:
40.2 metres
The Linglong equipped VW Golf Autocar used for its tests was still doing 27.8mph at the point where it had stopped on the Continentals. Overall the Continentals easily won, scoring top marks in all but one test. A consistent performance earned the GT Radials second place, but a wet lap time 3.4sec adrift of the Continentals indicated just how far even it falls short.
Given the average rain fall in the UK, it's well worth thinking twice before fitting super-budget tyres on your vehicle. If you save ?75 fitting 4 budget tyres you only save 0.05 pence a mile over a 12,000 mile life of the tyre. With the risk of an expensive insurance excess and loaded premium for the next 5 years, not to mention what could happen in a worse case scenario, is it really worth it?
Discussion:
comments powered by