Goodyear UltraGrip 8 Performance - Launched
With winter around the corner, Goodyear have just launched their latest ultra high performance winter tyre, the Goodyear UltraGrip 8 Performance.

Replacing the Goodyear Ultragrip Performance 2, the new UltraGrip 8 Performance brings a number of new technologies to the winter tyre, while also bringing the Goodyear winter tyre range naming nicely into line with it's none-performance brother, the UltraGrip 8.


Designed for our winters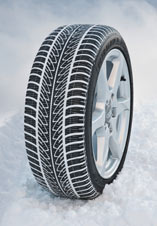 Designed with UK and European roads in mind, the UltraGrip 8 Performance features a saw shaped centre rib to act like a snow plough, breaking up the typical slush we experience, and ensuring the tyre gets through to the road beneath it. For deep snow and icy conditions, the UG8P uses a combination of the 3DBIS locking sipes first developed on the UltraGrip 8, and a new type of hybrid sipe, ensuring the tyre always has flexible edges for ice, but remains rigid enough for dry and wet driving. In pure wet conditions the tyres directional nature and wide shoulder hydrogrooves ensures the tyres aquaplaning resistance is amongst the best.
Available in 16-19", the Goodyear Ultragrip 8 Performance is one of the more interesting winter tyres for Ultra High Performance cars this winter. When tested by the independent testing company TUV in 225/45 R17 the UG8P was on average 3% better in snow handling, 1 meter shorter braking distance on snow, 5% better lateral grip on ice and 2% more resistance to aquaplaning than 3 other leading competitors.
Further Tyre Information