Continental WinterContact TS860 - Preview
The Continental WinterContact TS860 might not be available until autumn 2016, but that hasn't stopped Continental giving us a preview of the new tyre, and quite a tyre it is!
The outgoing Continental WinterContact TS850 has unquestionably been the "mid European" winter tyre to buy since its launch in 2012, having won 48 test and being recommended in 61 of the 68 tests it has been featured in. This means the new WinterContact TS860 has some big boots to fill.
How have they improved the TS850?
With development starting 3.5 years ago, the first improvement Continental made is a new high silica compound called "cool chilli". Though new mixing technology, and a fine tuning of chemical reactions, Continental have managed to take the silica content in the tyre from 120 parts per rubber to over 200, which gives the tyre a much better micro flexibility at cold temperatures, leading to better interlocking and grip with the road.

The second new technology is based on the tread pattern, and is called "Snow Curve". This is a directional tread pattern with an increased number of block edges and a high number of sipes, totalling over 2.5 meters of edges in the small tyre footprint. With those two features, the tyre has more edges, which means more grip, which means a higher transmission of forces in the snow and ice.

The third technology can't be seen, but is interesting none the less. It's called "liquid layer drainage", and is a multichannel sipe with vertical sipes at the bottom of the tread block to direct the water away from the block, and into the main tread pattern. This is particularly useful on low grip surfaces such as ice, as it creates an efficient water flow channel for the water to escape, allowing the tyre to have a good contact with the ground below.
The result? The new Continental Winter Contact TS860 out performs the outgoing TS850 in nearly every area, with significant improvements under wet and ice braking, and snow handling and traction.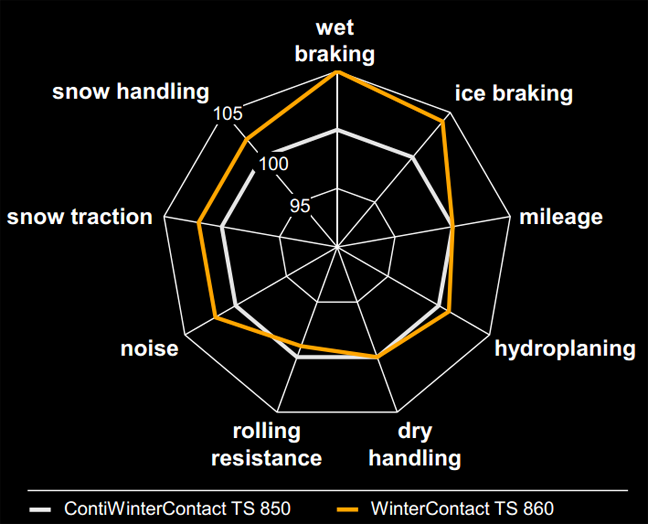 The new WinterContact TS850 will initially be launched in 36 sizes, from 14" to 17", and will be available to buy leading up to winter 2016. A further 20-plus models will be added to the range early 2017.
We fully expect this tyre to be the "must have" winter tyre for compact and mid range cars in 2016.
Initial Size Range
14"

155/65 R 14 75T TL TS 860

165/65 R 14 79T TL TS 860

165/70 R 14 81T TL TS 860

165/70 R 14 85T TL XL TS 860

175/65 R 14 82T TL TS 860

175/70 R 14 84T TL TS 860

185/60 R 14 82T TL TS 860

185/65 R 14 86T TL TS 860

15"

165/65 R 15 81T TL TS 860

175/60 R 15 81T TL TS 860

185/55 R 15 86H TL XL TS 860

185/60 R 15 84T TL TS 860

185/60 R 15 88T TL XL TS 860

185/65 R 15 88T TL TS 860

185/65 R 15 92T TL XL TS 860

195/55 R 15 85H TL TS 860

195/60 R 15 88T TL TS 860

195/60 R 15 88H TL TS 860

195/65 R 15 91T TL TS 860

195/65 R 15 91H TL TS 860

195/65 R 15 95T TL XL TS 860

205/65 R 15 94T TL TS 860

205/65 R 15 94H TL TS 860

16"

195/55 R 16 87H TL TS 860

205/55 R 16 91T TL TS 860

205/55 R 16 91H TL TS 860

205/55 R 16 91H TL FR TS 860

205/55 R 16 94H TL XL TS 860

205/55 R 16 94V TL XL TS 860

215/55 R 16 93H TL TS 860

215/55 R 16 97H TL XL TS 860

17"

225/45 R 17 91H TL FR TS 860

225/45 R 17 94H TL XL FR TS 860

225/45 R 17 94V TL XL FR TS 860

225/50 R 17 98H TL XL FR TS 860

225/50 R 17 98V TL XL FR TS 860
Extended Size Range accurate for winter 2016
03539850000 155/65R14 75T WinterContact TS 860
03539860000 165/65R14 79T WinterContact TS 860
03539870000 165/65R15 81T WinterContact TS 860
03539880000 165/70R14 81T WinterContact TS 860
03539890000 165/70R14 85T XL WinterContact TS 860
03539900000 175/60R15 81T WinterContact TS 860
03539910000 175/65R14 82T WinterContact TS 860
03539920000 175/70R14 84T WinterContact TS 860
03539930000 185/55R15 86H XL WinterContact TS 860
03539940000 185/60R14 82T WinterContact TS 860
03539950000 185/60R15 84T WinterContact TS 860
03539970000 185/60R15 88T XL WinterContact TS 860
03539980000 185/65R14 86T WinterContact TS 860
03539990000 185/65R15 88T WinterContact TS 860
03534760000 185/65R15 92T XL WinterContact TS 860
03534770000 195/55R15 85H WinterContact TS 860
03534780000 195/55R16 87H WinterContact TS 860
03534790000 195/60R15 88H WinterContact TS 860
03534810000 195/60R15 88T WinterContact TS 860
03534860000 195/65R15 91H WinterContact TS 860
03534870000 195/65R15 91T WinterContact TS 860
03534890000 195/65R15 95T XL WinterContact TS 860
03534910000 205/55R16 91H WinterContact TS 860
03550080000 205/55R16 91H FR WinterContact TS 860
03537580000 205/55R16 91T WinterContact TS 860
03537710000 205/55R16 94H XL WinterContact TS 860
03537770000 205/55R16 94V XL WinterContact TS 860
03538850000 205/65R15 94H WinterContact TS 860
03538860000 205/65R15 94T WinterContact TS 860
03538870000 215/55R16 93H WinterContact TS 860
03539060000 215/55R16 97H XL WinterContact TS 860
03539290000 225/45R17 91H FR WinterContact TS 860
03539310000 225/45R17 94H XL FR WinterContact TS 860
03539490000 225/45R17 94V XL FR WinterContact TS 860
03539510000 225/50R17 98H XL FR WinterContact TS 860
03539520000 225/50R17 98V XL FR WinterContact TS 860
Further Tyre Information