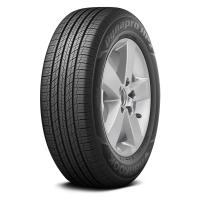 Hankook Dynapro HP2 Reviews (newest first) - Page 1
Given
61%
while driving a
Kia Motors sorento
(235/65 R17 H) on
a combination of roads
for 8,000
average
miles
The tires were on the truck originally, after 12,000 km (8000 miles) it remains 7/32 and new they have 10.7 / 32 so wear quickly. I changed to 4 Michelin Premier LTX and the comfort and handling are really superior with the new Michelins.
For the speed of wear, time will tell me.
Given
87%
while driving a
Ford Kuga
(225/45 R17) on
a combination of roads
for 20
average
miles
On a ford kuga 4 x4 performs well in all circumstances including towing a caravan. Good wear rate 8mm new 5 mm after 20 k.
Given
50%
while driving a
Kia Motors
(225/45 R17) on
a combination of roads
for 12
average
miles
I have the Hankook HP2 tires and would never ever recommend them on an SUV to anyone! I told my salesperson exactly what kind of vehicle I wanted for winter, knowing I didn't plan to buy tires for a brand new AWD vehicle I thought I would be good. They have let me down so many times and I'm so disappointed!
Given
83%
while driving a
Skoda Octavia estate
(205/55 R16 H) on
a combination of roads
for 8,000
average
miles
Tyres are good on ICe, but not so good on snow. Great milage with them. I have a 1600 TD with DSG 7speed autotrans and I have gotten between 44.5 in town-70MPG on the road, Combined average 50-51MPG. Great roadability, great in rain, speed. After 5000 miles, tyres tend to slip a bit at times, but normally grip the road very well. I have had them on 8K miles and thread is more than 2.5mm. Tyres wear excellent. I would buy them again, but iffy when it comes to snow. I have all season, mud and snow tyres.