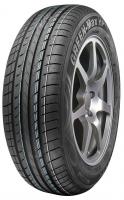 Linglong Green Max HP010 Reviews (newest first) - Page 1
Bought recently. So far so good.
Given
70%
while driving a
Mazda 3 2005
(205/55 R16) on
mostly town
for 25,000
average
miles
That is my first time using budget tyres and I can say that I am totally happy. Had them on my 3 after using a set of Bridgestone Turanzas and two sets of Michelin Energy due to their price as I was going to use the car only for town driving.I can say that they are a decent all rounder that can do everything at 7 out of 10 more or less and they price at half the price of the tyres mentioned above. Would buy again totally.
Given
82%
while driving a
Mazda mx 5
(205/45 R17 W) on
a combination of roads
for 5,000
spirited
miles
These tyres came with the car, a MX5 mklll 2.0 litre. To date I have driven some 5000 miles in typical spirited manner and the tyres give excellent grip in the dry and good grip in the wet, the latter in keeping with the cars known wet problems. Quiet, comfort ,well as best as they can be in this type of car, and cheap ,yes I will replace the set so I know their history. I can fully recommend these tyres.
Excellent tyre on my 1996 2.5 DSE Range Rover, will buy again definately.
Toyota
(225/45 R17) on
a combination of roads
for 4,000
average
miles
Too soon to report on wear but everything else is comparable to the OE Dunlops they replaced, wet and dry.
Given
79%
while driving a
Mitsubishi Spacestar
(195/55 R15 V) on
mostly motorways
for 35,400
average
miles
I had this tyres until they did 57000km in front axis ,and i think that it was good tyres for the price. They perform well in dry roads and wet roads with Masterclass safely.
Given
61%
while driving a
Peugeot 206 GTI 180
(205/40 R17 W) on
a combination of roads
for 16,777
average
miles
One year use tire!
Given
86%
while driving a
BMW 520i
(205/65 R15 H) on
mostly motorways
for 30,000
average
miles
Great budget tyres. Very good grip bot dry, wet and mud. Cant comment on snow but these are summer tyres.. Excellent for the price, these give good economy also. Highly reccomended.
Given
82%
while driving a
Toyota corolla
(195/60 R15 V) on
track
for 0
easy going
miles
Great ... very comfortable and dry grip tire up to the first mark. In wet fulfill their function whenever we go to normal and no extreme speeds. It is a very comfortable and little noisy tire and above all very economical for its quality. Definitely would return to them.
Drove these tyres last summer. I got these symmetric Greenmax HP010 tyres due to an confusing website from which i thought i was ordering asymmetric Greenmax UHP -tyres. These two are completely different style of tyres, and not to be confused together. This HP010 is comfortable touring style tyre, as opposed to UHP which is supposed to be the sporty one. HP010 is not a "High Performance tyre" as it is described in "Tyre reviews" description of the tyre.

Anyways, this fact doesn't make this tire a bad one, not at all. It is a very comfortable and quiet, plain and symmetric passenger car tyre. Although it is not a crisp handling sporty tyre, it's straight line keeping ability is good and steering response is sufficient to daily drive and occasional country road trips for fun. Steering response is rather soft, but still logical and stiffening towards ends without surprising behaviour.

As to grip in wet roads, even relatively cold ones (Finland), i could not get these tyres to slip on wet asphalt, even as i was deliberately punishing the car and the tyres in winding country roads. Of course they will slip, but at that point the speed is mindless anyway. Chinese are catching up in this area, obviously.

These tyres could perhaps be best described as "Old Man Style" -tyres, without negative connoitations. They are comfortable (civilized even on rotten roads full of potholes around here), quiet and dirt cheap, and seem to be lasting rather well by their tread. Also due to being a symmetric tyre, this ensures easy seasonal cross-rotations.