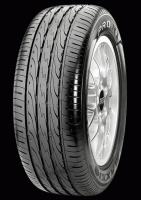 Maxxis PRO R1 Reviews (newest first) - Page 1
Given
29%
while driving a
Ford Puma 1.7
(200/50 R15 V) on
a combination of roads
for 2,000
average
miles
I found these tyres shocking. My car slides when changing lanes on the motorway over the white lines. I found no grip when driving in the rain and absolutely no traction in snow.
When the weather is dry, it's not so hairy. The traction is better but living in Manchester, it's more wet than dry. I'm changing over to Uniroyal Rainsport 3. I need confidence in my tyres & these just don't give it to me. They make my car feel dangerous. I drive a Ford Puma. They are a fun car to drive. It's not fun with these tyres & I miss being able to corner safely at reasonable speeds. I definitely would not recommend them.
Given
66%
while driving a
Vauxhall Astra SRi
(215/50 R17 W) on
a combination of roads
for 3,000
average
miles
Good budget tyre. Good dry grip qualities, like most budget tyres. OK-good dry grip qualities. Nothing exceptional on price or performance. Wouldn't buy again.
Given
90%
while driving a
Toyota soarer 4 ltr
(245/40 R18 W) on
a combination of roads
for 0
spirited
miles
I have used Maxxis tyres on my 4 ltr toyota soarer for 10 of the 11 years I have owned it and for a "budget" tyre it is better than most and certainly better than celera tyres sold by bathwick tyres which I had changed to maxxis after only 600 miles, they were lethal in the wet, it probably depends on the car/tyre combination as to how tyres react to conditions but sure as hell maxxis pro r1 suit mine.
Given
59%
while driving a
Fiat Bravo
(225/40 R18 W) on
a combination of roads
for 7,000
easy going
miles
My previous tyres was continental sportcontact 3. I had them for 77000 happy kms. Then for price reasons i skipped to maxxis r1. Compared to continentals softer ride, less noise,less responcive and with a feel of extra movement fro the car in the corners. The garage told me it is due to softer sides if the tire that makes it move a bit on the rim... and less grip than continentals more in dry and much much more in wet. Tyre wear extreme... after 12000km swithed front to rear tyres. An tis week after a hit on a hole in the rodad the inner sidewall of the front tyre failed. Continentals much much more endurant than maxxis. Never buy again. Concluded maxxis costed me more with worse characteristics. Their upsides were that they were more comfortable and less noisy.
Given
70%
while driving a
Land Rover freelander
(225/45 R17) on
mostly country roads
for 2,000
average
miles
Ok on the road and good general handling. These were fitted to my second hand Freelander 1 and I have driven about 2000 miles in wet and dry conditions. If I was a SUV softy and stayed on the road I would consider buying them again. I had an occasion where I drove along a progressively more muddy track and only got through due to the intelligent anti slip technique on the car. No use if you do anymore than drive over a wet grass field.
Given
77%
while driving a
Renault clio 197
(225/45 R17) on
a combination of roads
for 2,500
spirited
miles
all round very good tyre for the price . less than £300 for 4 fitted n comes with guarantee .
Excellent tyres , can't fault them