The Maxxis Supermaxx ST is a Touring Summer tyre designed to be fitted to Motorcycles.
Tyre Reviews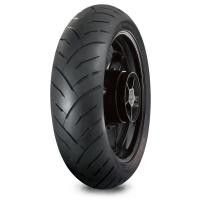 Sorry, we don't currently have any magazine tyre tests for the Maxxis Supermaxx ST
Sorry, we don't currently have any label data for the Maxxis Supermaxx ST
Sorry, we don't currently have any questions and answers for the Maxxis Supermaxx ST. Why not submit a question to our tyre experts using the form below!
Ask a question
We will never publish or share your email address
Top 3 Maxxis Supermaxx ST Reviews
Given
57%
while driving a
Ducati 1098s
(180/55 R17) on
mostly country roads
for 2,100
average
miles
After reading review I thought I would give them a go. Bought a pair from MyTyres at a very good price and fitted them myself. First impressions were very good, smooth and good stability but after only 1,800 miles I noticed the rear was well worn and now after 2,100 miles it is down to the legal limit of 1.6mm and this is supposed to be a sport touring tyre! I don`t think so.
Given
54%
while driving a
Ducati St4s
(120/70 R17) on
mostly country roads
for 4,000
average
miles
After 4000 miles it has gone out of shape and rubbing on the front mudguard with 2mm of tread left. Very poor.
Given
100%
while driving a
Suzuki GSF 650N
(160/60 R16) on
mostly country roads
for 1,000
average
miles
I bought these tyres to test them.
Th tyres are excellent with very very good hangling. These are more sport tyres than touring tyres. The curving and leaning are more natural and easy than with my old Bridgestone bt 20.
In wet condition the tyres are perfect. They are very soft and have excellent grip. I expect to last enough (10 - 15 K) is good for me. I prefer new tyres more often.
Have you driven on the Maxxis Supermaxx ST tyre?
Have YOU got experience with the Maxxis Supermaxx ST? Help millions of other tyre buyers
Latest Maxxis Supermaxx ST Reviews
BMW R1200RT
(190/55 R17) on
a combination of roads
for 3,000
spirited
miles
Like most riders, if I was loaded I would have replaced the excellent Michelins on my GTR1400, not loaded, I found a YouTube video with (I think) Chris Walker and his mates testing the ST tyres on a circuit on several bikes, including an equally heavy / powerful ZZR1400. Well these guys tried their best to get the bikes moving, and regardless of what they did, the tyres held up. The following day journalists who were at the track to the bikes on the roads with the used tyres, they loved them too. I invested £130 in a pair, scrubbed them in, and on Scottish Highland roads (where I now live) pushed them more and more to see if I done the right thing or sell them off and go back to the dealer tyres. Shouldn't have doubted myself, great in the dry and equally confidence 'making progress' in the wet. All I can say is blòody great tyres and will put a pair on my new bike R1200RT for my NC500 in under 24hrs in June 2021. Definitely money well spent.
Given
36%
while driving a
Suzuki TL1000R
(180/55 R17 W) on
mostly country roads
for 3,000 miles
Good in the dry, wears very quickly in the centre for a sports touring tyre. As soon as it squares off its horrible picking up any imperfections on the road. In the wet absolutely no feel & if it's cold as well the front slips, rear slides & if neither of these are happening the you've no idea what they're doing. They're cheap but cheap doesn't make up for how they feel in the wet
Given
76%
while driving a
Triumph Sprint RS
(180/55 R17 W) on
mostly country roads
for 5,000
spirited
miles
This was my second st of Maxxis St. After the last set I was going to buy something more premium, but I was skint; and these only cost £130 a set.. If anything my opinion of these tyres is even better than the first set, Grip and handling at this price, or anywhere under £200 is unbeatable. These were fitted to the review bikes at the launch of the KTM 790, and non of those hacks had anything bad to say about these tyres, despite some initial reservations. They are honestly the best tyres I have ever used in the wet that are not just purely wet focused. They were developed with the assistance of BSB legend Chris Walker, and he did a great job. However, they are only a single compound tyre, and they wear like buggery. My bike has just got an MOT advisory for the rear after less than 5000. You can tell they are a soft compound by the tearing on the edges after any enthusiastic cornering ;-) I would highly recommend these tyre if you don't do a high mileage, and ride anything under 130HP I am going to try Avon ST, next.
Standard Oe tyres on ktm 790 duke works well once the heats in the tyre and between 12-20 works best have had them break traction a few times. Super hard carcass tread pattern old tech. Wear rate looks quick. Will switch over asap
Decent tyre in warm weather, gives you good feel and feedback when there are nice and warm. Tends to step out on me in colder weather and made me lose a lot confidence in the tyres. Got 3500miles on the back and it's almost done for, tyre wear could be a lot better! There better tires price/quality wise on the market in my opinion.
Given
70%
while driving a
Triumph Sprint RS
(180/55 R17 W) on
mostly country roads
for 5,000
spirited
miles
These are very stiff tyres, and quite hard to fit by hand. Once bedded in they are superb on the road, very precise and grippy. They are far superior in the dry to Michelin PR 3, and at least as good in the wet , and at less than £130 a pair they should be my first choice for replacement. Unfortunately the rear is squared off and almost down to the wear bars at less than 5K despite avoiding motorways. Like someone else says a 2CT version is needed to make these a serious touring tyre. If you can get them cheap and don't do a huge milage they are recommended. And don't rule them out for novice trackday use.
Given
63%
while driving a
Kawasaki ER6F
(160/60 R17 W) on
mostly motorways
for 5,500
spirited
miles
These Tyre's offer plenty of grip in the dry and aren't to shabby in the wet either. I commute all year round on mainly dual carriage ways so the middle of the Tyre takes a hammering. My only gripe with this Tyre is its not dual compound. I've manged just 5500 miles out of the rear and its shot, if I compare it to my last Tyre a Bridgestone BT023 which is dual compound I got 10,000 miles out of the rear.

I fitted these Tyre's as a bit of the an experiment to see if the budget sports touring Tyre could compete with the big boys , Unfortunately in my case with the type of riding I do it doesn't, it's false economy for me to go for a cheaper Tyre, half the mileage but not half the cost. If spend a few quid more upfront and get almost double the mileage its dual compound all the way for me!

Good tyre but as I say Maxxis would need to bring out a dual compound sports touring tyres if I was to consider fitting them again.