Dunlop SP SportMaxx RT - Launched
So by now, you've probably read a bit about the new Dunlop Sport Maxx RT. Whether it was the initial launch report, our subjective shootout where we put the RT against the might of the Continental Sport Contact 5 or a magazine group test, the new Dunlop Sport Maxx RT has been getting great feedback all round.




Instead of just working to the 3 criteria the new tyre labelling shows, Dunlop analysed over 50 aspects of the tyres performance to insure the tyre replacing the Dunlop Sport Maxx TT was better in every way.

To ensure the new Sport Maxx RT tests ahead of the competition Dunlop invested in several new technologies in the Dunlop Sport Maxx RT.


Rigid Braking Blocks
To aid with braking, the Dunlop Sport Maxx RT features cambered braking blocks. Much like the technology found in the new Primacy 3, these blocks stop the tread pattern distorting as much under braking, resulting in stronger braking in both the wet and dry.
Massive outer shoulder
A sports tyre wouldn't be a sports tyre if it didn't offer excellent handling qualities. To ensure the Sport Maxx RT turns as hard as its looks promise, it features a strengthened outer shoulder section.
Adaptive Compound
With the primary dry grip of a tyre generated by the tyre keying into the tarmac, a compound which makes a fuller contact with the surface will offer more performance. The new active compound in the Sport Maxx RT using a clever blend of compounds to offer more grip without sacrificing wear.
Optimised insert
With petrol prices being at the forefront of every ones mind, Dunlop have used an "optimised shoulder insert" to reduce the weight of the tyre. This helps with rolling resistance and helps improve MPG.
The Results
All the above technologies sound promising, but the real test of a tyre comes from benchmarking it against your leading competition.
For this very reason Dunlop handed over the Sport Maxx RT to the independent German testing group TUV to test against 3 of its premium rivals. In 225/45 R17 on VW Golfs, the Dunlop was tested against the Bridgestone S001 (A), Continental Sport Contact 3 (B) and the Pirelli P Zero (C). When compared to the average of the three competitors, the Dunlop scored favourably in every category, offering 3.5 meters shorter dry braking, 2.3 meters shorter in the wet, 4.6 seconds faster around a 1 mile wet handling circuit and 11% less rolling resistance.
It's safe to say that with the launch of the Dunlop Sport Maxx RT, Dunlop finally have a tyre at the front of the max performance summer category.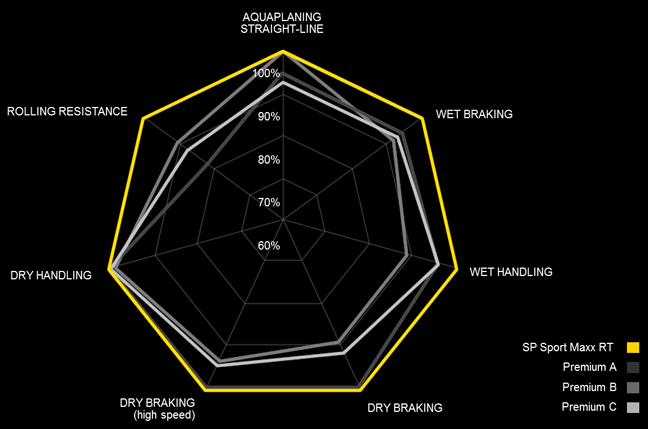 Further Reading
Further Tyre Information