Yokohama Advan V105 - Launched
The new Yokohama Advan V105 has a lot to live up to. Its predecessor, the Yokohama Advan V103, was launched in 2004 and has proven to be an extremely popular and capable tyre, winning numerous OE fitments including the Porsche 911 and Cayenne, the Bentley Continental GT, a number of AMG vehicles and many VAG fitments.





With the V103 as the benchmark, the Yokohama engineers have relentlessly worked to ensure the replacement V105 is not only better in terms of raw grip, but also offers an improved subjective feel and "sportiness" by spending a large amount of time developing it around the Nurburgring. The result is a greatly improved tyre.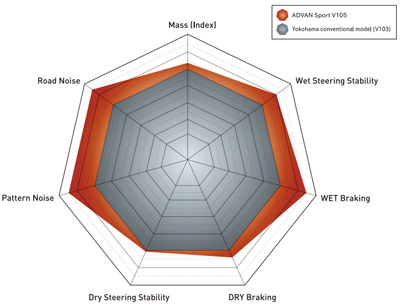 When compared to the V103 in raw numbers, the V105 wins in every category with nearly 15% better wet braking, 11% better wet stability, 4.6% lighter, 15% quieter and 4% better dry braking (compared in 265/35 R19). While the numbers are impressive, the real win for us was the subjective feel.

Comparing the V105 against the V103 on identical BMW 3 Series, the V105 had the clear advantage. While the turn-in was only a little sharper, the real improvements came at higher speeds, where the stability in the dry was far higher than the V103 and it reacted far better to steering inputs. Not only was the stability improved, but the feedback was much higher, allowing you to play with the car on the limit in a zone which left you guessing on the V103. Once past the limit, the V105 again had the advantage, with understeer being dialed out with a little lift, compared to the V103 which gave fuzzy feedback and needed a much larger lift to regain full traction.

The Yokohama Advan V105 is available in 36 sizes at launch, from 16-20 inches. With no price increase over the outgoing V103, it's a tyre well worth considering. It will be extremely interesting to see how it performs in the next wave of group tyre tests as it's a significant improvement over the V103.
Further Reading
Further Tyre Information