Dunlop's acclaimed TrailSmart has been replaced in key sizes with the new TrailSmart Max. The latest tyre builds on the highly regarded predecessor's magazine test winning wet and dry grip but adds new technologies that have been proven to improve handling and durability – perfect for riders planning a lengthy adventure.
This tyre replaced the Dunlop TrailSmart.
Tyre Reviews
Sorry, we don't currently have any magazine tyre tests for the Dunlop TrailSmart Max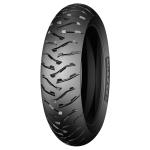 Michelin Anakee 3 - 73%
Sorry, we don't currently have any label data for the Dunlop TrailSmart Max
Questions and Answers for the Dunlop TrailSmart Max
2018-03-29 - will they fit my triumph explorer
I would presume if they made the size and load rating your Triumph requires then yes
---
Ask a question
We will never publish or share your email address
Have you driven on the Dunlop TrailSmart Max tyre?
Have YOU got experience with the Dunlop TrailSmart Max? Help millions of other tyre buyers
Latest Dunlop TrailSmart Max Reviews
I have them on my Vstrom 650both front and rear.The tires are very grippy I love them I would love to buy a tyre with the same tire compound for 100% road use because on gravel are pretty much shit anyways. I haven't really found the limit in the bends yet on them, might be due to the fact you cant really go that fast on a public road, (I am fast though much more than most cars could do in the bends) wet weather are very good not perfect though in pooring rain tend to power slide under full throttle even at 120 kms but in just wet roads are generally great. I would recommend them for every one who wants a grippy tire and doesnt really care about the mileage.I live in Greece roads here are even worse than shit .
Motorcycle: 2017 KTM Super Adventure S, with 19,000km. 2,000km on these tyres.

These tyres are amazing, the turn-in/handling is as good as the previous Road Attack 3 but the mud and gravel; performance is in another world. Trail performance is more off-road than sports tour, especially compared to RA3 and Scorpion Trail 2, while dry performance is more sport than tour, the best of both worlds.

Wet performance is brilliant.

They are also very quiet and extremely comfortable. With the Semi-Active suspension on the 1290 SA S, it's truly a magic carpet ride. The suspension can even be left in comfort mode and the tyres are so stable it feels perfectly planted even at autobahn speeds (200km/h+). Sport suspension can be kept for track use only and street is really only needed when pushing hard on twisty country roads. Fast cruising on country roads is effortless.

The wear has been great, at nearly 2,000km they look like new and have only a tiny amount of squaring which has actually made them even more stable in turn in. Amazing. A Scorpion trail will be quite squared off at this point. They even survived a 15-18mm sharp-pointed screw without deflating at 100km as the rubber thickness is much more than most tyres it seems. I unscrewed the screw expecting the tyre to deflkate (it was in the shoulder, about 50% from centre) and it didn't, I was expecting the screw to be about 5mm long and was shocked when I saw how long it was.

What is also interesting is for the same kind of riding (very mixed) I usually do, there seems to be more "spare" less used tyre at the edge than previous tyres, i.e. these seem to corner the same at less lean angle giving more reserve and the promise of even more sporty riding on track or dry roads where higher speeds are allowed.

All this is very confidence inspiring.
Removed the original Michelin Anakee from my 1000 Km BMW R1200 GSA 2018 Rallye due to the fact that this Michelin are very noisy, terrible grip on mud and trails of gravil and the fact that during the first 1000 Km the bike did not feel right .
On my previous GSA (2015) i always used the previous Dunlop Trailmax . 3 sets of tyres acomplished 63.000 Km`s .
Mostly tarmac on a 90/10 % of Road and off.road-terrain .
This Evolution of the Dunlop Trailsmart , Dunlop Trailsmart MAX are the ultimate 90%/10% Tyres . The behaviour in the city traffic allows to go over and behond regarding grip, brake safety , and acelariontion grip and perfect cornering.
In Highway we are taken to a dream like experience . On dirt much much more grip than then the Anakee .
Out of a hundred i give the 99% for sure . The new silica compound and the lateral soft sides are simply brilliant .
No doubt a Winning mix the Dunlop Trailsmart and the new BMW R1200 GSA Rallye