2011 Subjective shootout - 255/40 R19 Max Performance Summer Tyres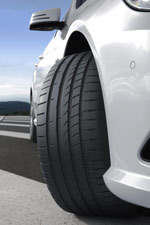 It's not often you get the opportunity to try different tyres on identical cars one after the other, so when we were presented with 3 Audi A7's wearing 3 different max performance summer tyres in 255/40 R19 there was only one thing on our mind - a subjective handling shootout!

The A7s were fitted with 3 of the newest max performance summer tyres, the Bridgestone Potenza S001, Continental Sport Contact 5P and Goodyear Eagle F1 Asymmetric 2. With the raw performance of such tyres being extremely close, we were more concerned with how they felt during turn in, pushing hard mid corner, how they reacted past the limit, and under braking and what sort of feedback they provided.

Armed with a notebook and data logger, we hit 2 different sections of track. One warm and dry, and the other artificially wet with various levels of standing water from a damp surface to 1cm of water.

The Results? As expected the raw grip was extremely close, leaving the scores primarily based based on subjective feel and handling, rather than outright laptime.


Total: 200
Dry: 100
Wet: 100

On the Audi A7 at least, the new Goodyear Eagle F1 Asymmetric 2 was the clear winner in both performance and subjective feel. In the dry the feedback through the wheel was detailed, the turn in sharp, and the linearity of the cornering extremely positive. Once past the limit the car was controllable with the tyres quickly regaining grip with a slight lift. In the wet the advantage was less pronounced but still obvious in both feel and performance. If there was one draw back it would be that hard braking felt a little squirmy, but as the only tyre to consistently pull over 1.1G under braking (1.13g peak) it might have been the cars chassis struggling more than the tyre.


Read Reviews

Total: 187
Dry: 93
Wet: 94

While the Continental matched the Goodyear for lateral grip, it couldn't match the Asymmetric 2 under braking or more importantly, subjective feel. In the dry the Conti offered a reasonable level of feedback but poor turn in. Initial bite was good, but then the car seemed to pause for a split second as the tyre rolled under the car and obtained required slip angle - this also caused mid corner corrections to be somewhat vague. In the wet, with reduced cornering forces the Conti was much closer to the Goodyear and was extremely close. Past the limit, the 5P felt easy to control, and was an enjoyable tyre to slide.


Read Reviews Buy from £165.47

Total: 176
Dry: 90
Wet: 86

On changing to the S001 the Audi A7 felt instantly more numb, with the lack of feedback instantly leading to more understeer as you reached the limit of grip. Braking was good, and initial turn in and bite was better than the Conti in the dry, but on the wet circuit both the driver and the car struggled with understeer. On both the dry and wet surface once you'd passed the limit of grip it was hard to regain control without a big lift of throttle leading to this being the least enjoyable tyre on the Audi.


Read Reviews Buy from £147.90