The Dunlop SP Sport 01 AS is a Premium Touring All Season tyre designed to be fitted to Passenger Cars.
Tyre Reviews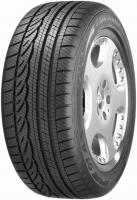 | Size | Fuel | Wet | Noise | Weight |
| --- | --- | --- | --- | --- |
| 185/60 R15 88H XL | C | E | 70 | 8.37kgs |
| 185/60 R15 88H XL | C | E | 65 | 8.37kgs |
| 235/50 R18 97V XL | C | C | 71 | 12.05kgs |
Sorry, we don't currently have any questions and answers for the Dunlop SP Sport 01 AS. Why not submit a question to our tyre experts using the form below!
Ask a question
We will never publish or share your email address
Top 3 Dunlop SP Sport 01 AS Reviews
Given
93%
while driving a
SEAT Ibiza 16V
(215/45 R16 V) on
a combination of roads
for 1
spirited
miles
These are the first all season tyres I've used as I didn't want to be switching between summer/winter tyres anymore so I can't directly compare these with other all season tyres.

I've only been using these this spring/summer so might return to update the review when I've seen how they cope with snow/ice and generally cold conditions.

The first thing I noticed about these tyres was how quiet, smooth and comfortable they are compared with any other tyre I've used. They replaced Conti Premium Contact 2 on all four wheels and the difference is night and day. I've also used a lot of tyres in my time from Michelin, Continental, Bridgestone, Toyo, Falken & Kumho and I've never seen this level of comfort or lack of noise. Very impressive!

In the dry the handling is quite sharp for a tyre with soft-ish sidewalls and grip is excellent. Not quite as good at handling in the dry as a dedicated summer tyre but you would never notice unless pushing hard. Bizarrely, dry braking is actually improved over the previous tyres though!

In the wet it's a different story, the tyre's noticeably lacking a bit in all out grip. They're not unsafe, and I've driven on worse summer tyres in the wet, but I wouldn't say they were great in the wet; only above average. Wet braking is a bit better than wet handling and acceleration which is reassuring for safety but they just can't match a dedicated a premium summer tyre in this area.

I can't really comment on wear as I've not done enough mileage in them. They don't appear to have worn at all and there's no reason to assume that they won't last well.

To conclude, I'd say you're sacrificing some all round performance for a tyre which will still work in the cold and snow/ice. I intend to update the review once I've tried these in winter but for the time being I'm quite happy with them.



Astonishingly good in snow. At least as good on same car ( Audi A4 TDI ) as Conti 830s, which I had used previously.
Just shows that the appearance of a tyre doesn't tell you how good it will be in snow.

I drove these in 9 inches of snow , fresh and packed , in the Alps this winter. No problems getting away or handling and breaking. Great tyres.
Given
94%
while driving a
BMW BMW X1
(225/50 R17 W) on
a combination of roads
for 2,000
average
miles
I bought an X1 last October 2015 and knew I would be replacing my tyers after a few months...
The car came with Bridgestone Duelers on it and thought I had enough tread on them to last.
But when breaking while crossing over white lines near roundabouts etc... I could feel the front tyers wheels slipping through the stealing wheel!
So thought it was time to replace and do my homework.
I used this website and decided to go for the Dunlop SP Sport due to the reviews
I then compared the prices with 4 tyre fitting garages.
I got a good deal £204.00 for two...from local fitter...would have been nearly £25 - £30 per tyre more if I had gone through well know tyre fitting company.
The car feels amazingly better wet or dry...very little road noise....feels very sure footed!
I highly recommend them!
And remember buy cheap buy twice! :-)
Jon D

Have you driven on the Dunlop SP Sport 01 AS tyre?
Have YOU got experience with the Dunlop SP Sport 01 AS? Help millions of other tyre buyers
Latest Dunlop SP Sport 01 AS Reviews
In @ 10000 km i've scraped 3 due to weak sidewall.it's like throwing cash out the window.the worst set of tyres in my life.never again Dunlop.