Designed for ultimate street performance but with track capability, the latest Dunlop SportSmart2 Max combines learnings taken from Dunlop's World championship winning endurance racing programme with the experience gained in developing the revolutionary RoadSmart III Sport Touring tyre.
Dunlop Europe's development team aimed for high objectives in the development of the latest tyre. The previous SportSmart2 had built a strong reputation for ultimate grip, and the replacement had to maintain this advantage but set a new testing benchmark for handling, feedback and low wear.
This tyre replaced the Dunlop SportSmart 2 and this tyre has been replaced by the Dunlop SportSmart 3.
Tyre Reviews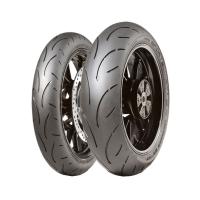 Sorry, we don't currently have any magazine tyre tests for the Dunlop SportSmart 2 Max
Sorry, we don't currently have any label data for the Dunlop SportSmart 2 Max
Sorry, we don't currently have any questions and answers for the Dunlop SportSmart 2 Max. Why not submit a question to our tyre experts using the form below!
Ask a question
We will never publish or share your email address
Have you driven on the Dunlop SportSmart 2 Max tyre?
Have YOU got experience with the Dunlop SportSmart 2 Max? Help millions of other tyre buyers
Latest Dunlop SportSmart 2 Max Reviews
Compared to my previous set of pirelli Diablo rosso 2 these tires warm up faster on public roads wet grip is much better the are much more predictable on wet but not better than the rosso on the dry so to conclude having riden on both sets i recommend you go for the dunlop for daily driver or lighter motorcycle and go for the pirelli if you are looking for supersport cornering and and you dont care about wet road grip
Given
85%
while driving a
Suzuki
(180/55 R17) on
mostly country roads
for 500
spirited
miles
had pp2ct on before and this will be reviews against them, these sportsmart 2 max are a better tire. scrubbed them in for 100 odd miles. dry weather the front tire gives me loads of confidence(love it). i find myself really wanting to go hot into corners/rounadabouts. but on the public roads there only so fast u can go in. leant over u can feel the grip and its more stable, dont know if its because of the hard carcess. pp2ct always had this vague unsure feel to them. anyway i find myself going that fast round some tight roundabouts im leant right over and the only thing stopping me going low low is my ability and me thinking about low siding my bike, i have been to edge on the rear and there was no tire slip. doubt ill do it on the front as the edge sort of goes vertical.
Wet weather i tend not to ride in but on the odd days i get caught they handle normal riding just fine. i never push it in wet.
they also seem to be good on englands crap uneven horrible roads that havnt been fixed for 20years. overall these are great tires tires to buy for a 600 fitted i paided £280. i would recommend and buy again.