The Falken Wildpeak WP AT01 is a All Terrain and Off Road Summer tyre designed to be fitted to SUV and 4x4s.
Tyre Reviews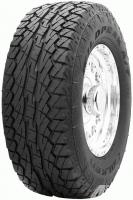 Sorry, we don't currently have any magazine tyre tests for the Falken Wildpeak WP AT01
Deestone Mud Clawer R408 - 85%
Sorry, we don't currently have any label data for the Falken Wildpeak WP AT01
Sorry, we don't currently have any questions and answers for the Falken Wildpeak WP AT01. Why not submit a question to our tyre experts using the form below!
Ask a question
We will never publish or share your email address
Top 3 Falken Wildpeak WP AT01 Reviews
Given
88%
while driving a
Volkswagen Transporter
(215/75 R15) on
a combination of roads
for 1,000
average
miles
After many years with Goodrich TAs with one carcass deformation I felt the need for a change. In the size I was after I had limited choice, however with good reviews of the Wildpeak I took the plunge. They balanced very easily with little weight and initial feelings of road manners were very good - quieter than the TAs they replaced and with better grip wet or dry. Off-road they have a slightly different character to the TAs, and whilst they would brake traction and spin in similar conditions, the actual traction is better. Even when spinning they seem to bite harder than the TAs and keep the van moving. I will definitely replace the fronts with the Falkens when the time comes.
Given
88%
while driving a
Nissan patrol
(225/45 R17) on
mostly country roads
for 3,000
spirited
miles
I replaced 4 Bridgestone Dulers with 4 Falken wildpeak tyres on my Nissan Patrol in April 2014. The first thing I noticed was how quiet they are both on motorway and the rural back roads of Devon, UK. These tyres create very little road noise, are comfortable and provide good traction in wet and off road. They are reasonably priced, cheaper than the more established brands. They also look good. I am very pleased with these tyres and would recommend them.
Given
66%
while driving a
Toyota Hilux mk6 3.0
(265/65 R17 H) on
mostly country roads
for 12,000
easy going
miles
when I first bought them - they performed well in most conditions. First winter with snow and Ice grip was acceptable, 2nd year snow and ice grip was poor and I noticed that wet grip reduced quite a bit, with heavy rain had so switch to 4wd to prevent my pickup from spinning on sharp turns when accelerating (did not had this issue first year). 3rd winter snow/ice grip was gone even if tires still had some meat on them. they have done 12000 miles, taking in account that Im easy going driver thats not much. Changing to Yokohama G015
Have you driven on the Falken Wildpeak WP AT01 tyre?
Have YOU got experience with the Falken Wildpeak WP AT01? Help millions of other tyre buyers
Latest Falken Wildpeak WP AT01 Reviews
Given
54%
while driving a
Suzuki grand vitara
(235/75 R15 R) on
a combination of roads
for 6,000
average
miles
Had these tyres on with the car when I bought the car. They are 3 years old and holy crap they are horrible in the rain. It's so scary in the rain. There is 0 grip. If I'm going up a steep hill it doesn't even manage, just spinning and spinning and spinning, people will be passing me on a single carriage way until I engage my 4x4. They are awesome in the dry and even off road, I even went through some semi hard trails and they did well. However, in the rain, oh man. A death wish. I've been reading on these tyres and apparently after just 2 or 3 years they become completely useless in the rain, even if there is still lots of thread left (which mine has tons left). I even keep the tyres slightly deflated as I off road often but oh my days it's scary af. Now I am looking at some new AT's and I hope the next ones will be MUCH better then these Wildpeak AT01's
Living in a rural location and working shifts i find myself coming and going to work at all hours in all conditions. during the last 8 years i have used mostly yokohama and pirelli tyres. when my last set wore out i decided to try a set of Falken. They had been recommended to me by a friend whom runs a farm.
Having used them now for approximately 5000 miles on and off road I can say with confidence that they have never failed me in any conditions. Would I buy them again? YES. For the price they are a very very good tyre. What I find strange is the very poor classifications it is given. E , F and 73 db respectively. I have not found these figures accurate in any way.