2011 Sport Auto Max Performance Summer Tyre Test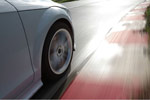 Sport Auto have tested seven 245/40 R18 Max Performance Summer Tyres on an Audi TT RS, but which will dominate in this dry bias test?

To ensure conditions were suitable for a summer tyre test, Sport Auto visited a Bridgestone test track in Italy. Taking part in the test are some of the newest tyres to market, including the new Michelin Pilot Super Sport, Pirelli P Zero, Bridgestone Potenza S001 and Toyo T1 Sport, along with the existing Nokian Z G2, Dunlop Sport Maxx GT and Sava Intensa.
The Sportiest Tyre
In the dry one tyre shines, the new Michelin Pilot Super Sport. After a single warm up lap the Pilot Super Sport rewards with a razor sharp turn in, the highest level of grip and the fastest lap time, resulting in a highly enjoyable drive. The Pirelli P Zero finishes a close second due to a stronger wet performance, but lacks the ultimate steering precision of the Pilot Super Sport.
The Nokian Z G2 finishes a strong 3rd with an excellent all round performance. While Sport Auto call this tyre an "underdog", this further reenforces Nokians excellent run of form with both summer and winter tyres, confirming the Finish manufacturer is a force to be reckoned with. Closely following the Nokian is the Bridgestone Potenza S001, let down slightly by its wet performance and steering feedback but once again an excellent all round tyre.
The Final Three
The Toyo Proxes T1 Sport nudges out the dry weather specialist Dunlop Sport Maxx GT to 5th, thanks to a strong wet performance while the Sava finishes in a last place as a result of the worst wet and dry handling and the longest braking distances.
Total: 233
Dry: 124
Wet: 64
Subjective: 45

The Michelin Pilot Super Sport left the most sporty impression, characterised by extremely precise steering and agile handling. Over 10 dry handling laps the Pilot Super Sport shows no degradation of lap time unlike the competitors. On a wet track the quick load change required an experience driver.


Read Reviews Buy from £156.54

Total: 231
Dry: 120
Wet: 71
Subjective: 40

The Pirelli P Zero is an excellent all round tyre with very balanced scoring and handling.


Read Reviews Buy from £119.62

Total: 226
Dry: 109
Wet: 79
Subjective: 38

The Nokian Z G2 shines in the wet with the best braking, the second fastest lap time and beautifully balanced handling. Slight understeer in the dry.


Read Reviews

Total: 218
Dry: 113
Wet: 66
Subjective: 39

The S001 is a good all round tyre without shining in any particular area.


Read Reviews Buy from £121.74

Total: 215
Dry: 104
Wet: 73
Subjective: 38

The Toyo T1 Sport is a wet weather specalist, placing second in the wet tests. Unfortunately in the dry the steering provides little feedback and understeer inhibits agility. The tyre seems to overheat on quick laps.


Read Reviews

Total: 209
Dry: 117
Wet: 52
Subjective: 40

The Sport Maxx GT was developed with the Audi TT and offers excellent dry performance and a quick precise steering. When wet, the Dunlop suffers with a relative lack of grip leading to 6th place.


Read Reviews

Total: 188
Dry: 94
Wet: 62
Subjective: 32

Misc:While the Sava is the cheapest tyre in the test, it cannot keep up with the premium competition. The Sava has very good aquaplaning properties, but a lack of grip in the wet and dry leading to heavy understeer. Worst tyre for braking.


Read Reviews
Sport Auto