BFGoodrich G Force Rival S 1.5
The BFGoodrich G Force Rival S 1.5 is a Extreme Performance Summer tyre designed to be fitted to Passenger Cars.
Tyre Reviews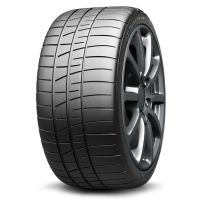 Tyre review data from 1 tyre reviews averaging 90% over 300 miles driven.
The G Force Rival S 1.5 is unranked of 27 Summer Extreme Performance tyres.
Latest Tyre Test Results
2021 Track Day 200TW Tyre Test - 1st of 8 tyres
Positive - Fastest tyre on test over a single lap, 3 lap average and a heat cycled 8 lap average. Excellent steering reaction, good feedback, high levels of grip, it felt like it enjoyed being driven quickly.
Negative - Slight lack of feedback at large steering angles compared to the Falken, some understeer at the end of the 8 lap run as the front left overheated.
Overall - The BFGoodrich Rival S 1.5 is a really enjoyable to drive that likes to be driven fast. It needs a little heat to be at its best, but once the tyre is warm, it's extremely fast, controllable and stable.

View Full Test >>
Sorry, we don't currently have any label data for the BFGoodrich G Force Rival S 1.5
Sorry, we don't currently have any questions and answers for the BFGoodrich G Force Rival S 1.5. Why not submit a question to our tyre experts using the form below!
Ask a question
We will never publish or share your email address
YouTube Review
Have you driven on the BFGoodrich G Force Rival S 1.5 tyre?
Have YOU got experience with the BFGoodrich G Force Rival S 1.5? Help millions of other tyre buyers
Latest BFGoodrich G Force Rival S 1.5 Reviews
Given
90%
while driving a
Chevrolet camaro
(305/30 R19) on
track
for 300
spirited
miles
After buying my Camaro intended for autox/daily use, I bought a set of wheels/tires specifically for autocross. It is 305/30-19 at all 4 corners, which for the most part fits, other than some poke beyond the fenders. I drove them around on my commute for a few days when I first put them on to see if there were any rubbing issues that needed to be addressed. Despite the poke, there is zero rubbing on an otherwise stock car. On the street, they are certainly loud and tramline on some pavements pretty bad. That just comes with the territory. I've yet to drive them in the rain, but from what I've heard it's not good. So far I've done 2 autox events on them, one being a test n tune which has amounted to roughly 12 runs on them. I've yet to see any sort of discernable wear, but I'll have to keep an eye on that. The initial impression is that the grip is well beyond what I was used to on my old Focus ST. The BFGs do like heat, and it's harder to get heat in them than it was on the Focus with the RE-71Rs. There are probably a number of contributing factors here, but the BFGs are probably best for those in hotter states. The first two events were in colder weather where it barely broke 50F, and the fronts finally started coming into their best range after probably the third run, and the rears never got beyond lukewarm. In my first points event this year, I ended up 8th of 124, with more time to come as I get used to the new car/tires. After a few years of the RE71s and the Rivals dominating the autox scene, it'll be interesting to see how the Yokohamas and the coming Falkens will stack up.