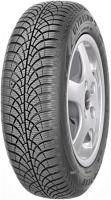 Goodyear UltraGrip 9 Reviews (newest first) - Page 2
Given
53%
while driving a
Honda Jazz
(175/65 R15 T) on
mostly motorways
for 3,000
average
miles
Good tyre for rain and snow. But no good with dry roads at temperatures higher than 12degrees Celsius. This tyre is very soft, so no good response on dry and warm asphalt. Previous tyres were Michelin Alpin4 and they were much better on dry roads.
I boought these tyres in a hurry before my trip to the mountains of northwest greece. My car is a VW Polo 1.6 Tdi with front wheel drive. I did about 1000 km on these and this is my review so far.

The first thing I notice was that they are really quiet, almost no difference with the summer tyres. Previous experience with winter tyres had me expecting lots of harsh road noise, but even at highway cruising speed of 120km/h the car drove quietly.

The softness of the tyres and sidewalls made it really comfortable but I was deprived of roadfeel. Literaly no idea where the tyres where pointing at with a constant sense of understeer. And that without pushing the car hard, just cruising along a curvy mountain road.

I didnt push it to the limit but I can tell that dry grip and dry braking wasn't giving me any confidence at freezing and normal temperatures (-5 to 10 degrees Celsius).
On the wet it is a whole different story. Good grip, no slip and spin. Just perfect. Cannot comment on aquaplanning.

Snow and ice were no problem. Even steep icy uphill roads where not a problem for my front wheel drive city car. And it goes the same for roads covered with frozen snow. Always felt safe and capable of delivering.

I recomend these with ease for snow and wet, but not for dry city driving and temperatures higher than 15 degrees C.
Given
89%
while driving a
Volvo 940 turbo
(195/65 R15 H) on
a combination of roads
for 3,000
average
miles
Bought a set of goodyear ultra grip 9 winter tyres last year and had them fitted to a spare set of alloys. They were fitted to my rear wheel drive automatic Volvo 240 Automatic estate and are now fitted to my 1996 rear wheel drive automatic Volvo 940 estate.

In this spell of snow the grip is amazing and I haven't got stuck which on summer tyres I would of just spun the rear wheels on the slightest incline of snow.
On the Goodyears I can actually stop and pull away on snow covered hills. You can feel the tyre spin and then it bites into the snow. Braking is also very good. Steering is good too and feels safe. Frozen compacted snow which has turned to ice I did pass a stuck Peugeot partner and I went up the hilly lane with not much difficulty, just a bit more spin than none on snow. Slight spin then grip etc. If a steep hill and total ice no winter tyre would help unless studded. My car has no traction control or modern aids, just ABS.
I highly rate them and would buy again. There is no wear from last years use.

Given
93%
while driving a
Vauxhall Corsa D
(185/65 R15) on
a combination of roads
for 1,500
easy going
miles
I fitted these tyres end of November 2017 and they have been invaluable especially over the last few weeks.
Excellent in the dry and very stable and secure in the wet. One of the quietest tyres I've ever used, and very good on fuel. But the best thing about this tyre is the ability on snow. This weekend in fact I was driving through now nearly a foot deep and the only reason I stopped a few times was because I bottomed out on the stuff. Hill climbs and descents are not a problem. And this is in a front wheel drive Corsa van. Brilliant!
Given
84%
while driving a
Toyota Auris
(195/65 R15 H) on
track
for 6,000
average
miles
I bought this tires after reading some feedbacks on this site and I will buy it again if will fit on my new car. Great gums with excellent grip on snow and ice. I don't know about the wear since I sold my car after one winter season but I deffinetly miss its.


It's really good tire for all weather conditions. It is silent but stiff. Fuel economy level is average.
Given
86%
while driving a
BMW 118d
(205/55 R16 V) on
a combination of roads
for 13,000
average
miles
Further to my earlier review I have used the 9's in heavy snow and they performed extremely well. Interestingly I also noted that handling when the weather warmed up is markedly better than the 8's I had before, much less wallowy. Still not up to a summer tyre but more than acceptable.
Given
87%
while driving a
Hyundai Getz
(225/45 R17) on
mostly town
for 0
average
miles
the ultragrip9 is my first winter tires in getz 1,3 175/65 / 14t ..... All I can say is fantastic on snow and cold days made in Thessaloniki Greece in January 2017 that did not have to put chains on at alln ..... Very good on dry and wet roads but with some noise after 80 and little more fuel efficient .... the wear 5000 km ..... Bavo Goodyear !