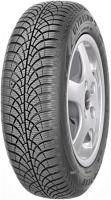 Goodyear UltraGrip 9 Reviews (newest first) - Page 1
Given
57%
while driving a
Citroën berlingo
(205/65 R15 H) on
a combination of roads
for 10,000
average
miles
Fitted these following the great reviews however I'm completely disappointed with the outcome. Even from new these tyres would spin up on my 1.6 automatic Berlingo. After only 10k miles the outer tread is coming off in lumps inside and out and almost onto the wear indicators. Back to my trusted Vredesteins next. Goodyear, never again.
Given
87%
while driving a
Mazda 3 Skyactiv 2012
(205/60 R16 H) on
a combination of roads
for 1,000
average
miles
Probably the best winter tyres I have tried. They are very comfortable and quiet especially compared to the Bridgestone Blizzak LM-32 I had fitted the previous winter. They are also quieter amd more comfortable than my Michelin summer tyres. The wet and dry grip is good, but I cannot yet comment on ice and snow grip, but I expect those to be good as well based on other reviews. Wear is also difficult to comment on since I have not driven them for long time.
They might be a little more expensive than other tyres, but you really get what you pay for with these tyres. I will definitely buy again!
Spent the winter season in the French Alps and these tyres were amazing. We had 1 metre of snow one day and after digging the car out we had no need for snow chains, either getting out of car park and drove to ski resorts without any issues and felt very secure.

Also somewhat surprised on how quiet they were on driving from and back from the UK.

Highly recommend

Given
93%
while driving a
Vauxhall Corsa
(185/65 R15 T) on
a combination of roads
for 8,000
easy going
miles
Really good winter tyre. High levels of grip in the snow and on ice. So much so that the only hindering factor is the ground clearance of the vehicle. I was pushing snow with the front bumper and this was causing me to loose momentum but you cant fault the winter traction, its great.
There also a really good tyre in the dry and wet below 7 degrees. Very safe, good braking and offers high resistance to aquaplaning. Most notable is how quiet the tyre is and also how little fuel it uses. With only 5 MPG less than the Goodyear summer tyres i cant complain.
Certainly a tyre more suited to family cars, commuters or rural vehicles. If you were after a sportier ride for say a Maserati or Jaguar I would look at the Goodyear Ultra grip Performance.
This is a link to a video I took, https://youtu.be/bHaU-EWcir0 a short trip in my vehicle fitted with Goodyear Ultragrip 9's.
Well worth the money, I paid £68 fitted and balanced each from www.blackcircles.com my local tyre shop fitted them included in the blackcircles price.


Given
92%
while driving a
Hyundai Getz
(175/60 R14 T) on
mostly country roads
for 25
easy going
miles
3 years each winter I wear them and I have made 25.000km in getz 1.3 175/60 / 14t ..... excellent in the snow very good on the ice, dry and wet road.the best tires winter
Given
80%
while driving a
Volvo V50 estate
(205/55 R16 H) on
mostly town
for 500
average
miles
The only reason I wanted to add a review here, is because these tires are slightly overhyped here. They are not bad but they are still M+S tires, and their performance on snow and ice is slightly worse than the dedicated Michelin winter tires I had before them. The ABS kicks in sooner when you are braking hard and they have this nasty thing when you are driving on a icy roundabout, it's like they loose traction for split second and then regain it. I never spinned out our anything, but it does make you a bit nervous, I never had this with my Michelin tires.
They are great on wet road though, much better than studless snow tires. They are also quiet.
Renault
(225/45 R17) on
a combination of roads
for 200
average
miles
Hi there. After a week with UG9 and last night mountain driving at -4C to -7C and around 5cm of still fresh damp snow and some already more frozen snow and ice here and there I just wanted to share my opinion.

Compounds - The UG9 and UG8 thread compounds are softer on touch compared to WRD4 in cold weather.

Ride Comfort - WRD4 has a superior ride comfort that i never felt with any other tyre I believe it is related to their "Silent Sidewall" technology absorbing most of the small irregularities on the road and providing really good ride smoothness. UG in general are feeling harsher (I always keep my tyre pressure as is in my car manual).

Noise : UG8 -very noisy , UG9 noisy , WRD4 surprisingly silent for winter tyre actually i think my old summer tyre with V shaped pattern Vredestein Sportrac 3 was noisier.

Clean Asphalt Grip +13C - WRD4 has a really good grip almost like a summer tyre of the same size , UG8 is tragedy in any direction and at temperatures beyond 10C is screeching on slightly harsher loads. UG9 is much much better than UG8 in this respect especially accelerating and braking , getting very close to WRD4 but still behind it for sure.

Wet Asphalt - well since i drive very carefully in heavy rains i can't say much probably WRD4 has better aquaplaning resistance compared to UG8 but i didn't have the chance with UG9 to put it on high speed through deep water patch.

Cold Clean Asphalt Grip (-5 and under) - WRD4 and UG9 have similar behavior they are exceptional on cold asphalt , UG8 suffers in longitudinal loads especially accelerating i believe this is due to the thread pattern design mostly but is on par in side loads with the other 2.

Wet snow covered Asphalt - WRD4 is suffering on wet snow that is above 2cm in any direction it is inferior to UG9 and UG8.

Damp Fresh snow more than 5cm - WRD4 is inferior to both UG9 and UG8 it is struggling to gain grip in acceleration and in side loading it is rapidly going into a slide where both UGs are much more progressive. In general i think UG8 was better in longitudinal loads compared to UG9 (both accelerating & braking) , in side loads i believe UG8 and UG9 are almost the same and are very progressive when they start loosing grip and start side sliding.

Powder like very cold snow - well still no -10C here but UG8 was definitely better than WRD4 will see about the UG9 but given the fact how soft the compound feels i believe it will be as good as UG8.

Conclusion : Well in general I think the UG9 is the better all round tyre for where I live 3 months of the year snowy roads outside the city (Sofia , Bulgaria) , uncleaned small streets -15C is not impossible during the night , mountain passes that can be snowy (the city is locked between 4 mountains). Nokian WRD4 is superb on a bit warmer weather and specially in regard of ride comfort I'm still amazed how smooth my car can be. UG8 is really good tyre for snow but it is really weak on clean roads and I still think it is probably a notch better than UG9 on snow but it might be a romantic memory of it.
Given
53%
while driving a
Honda Jazz
(175/65 R15 T) on
mostly motorways
for 3,000
average
miles
Good tyre for rain and snow. But no good with dry roads at temperatures higher than 12degrees Celsius. This tyre is very soft, so no good response on dry and warm asphalt. Previous tyres were Michelin Alpin4 and they were much better on dry roads.