The Michelin Power Cup 2 is a Extreme Performance Summer tyre designed to be fitted to Motorcycles.
Tyre Reviews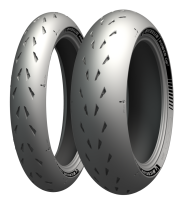 Sorry, we don't currently have any magazine tyre tests for the Michelin Power Cup 2
Sorry, we don't currently have any label data for the Michelin Power Cup 2
Sorry, we don't currently have any questions and answers for the Michelin Power Cup 2. Why not submit a question to our tyre experts using the form below!
Ask a question
We will never publish or share your email address
Have you driven on the Michelin Power Cup 2 tyre?
Have YOU got experience with the Michelin Power Cup 2? Help millions of other tyre buyers
Latest Michelin Power Cup 2 Reviews
These are one on my duke 890r brilliant in hot dry conditions but all weather road tyres they are not. When the outdoor temp dips the tyre feels hard and harsh. Wear rate is insanely high probably have them off at 1500miles. Tyre carcass is hard more suited for hard track pros, turn in is brilliant and feels awesome leant over. Tyre will square off just by looking at highway/motorway journeys.
Excellent dry weather tire that heats up fast. These tires are so confidence inspiring on spirited rides, until any amount of moisture hits the road. The PC2's are the best dry weather tires I've used, ever. The rear is starting to square off a bit at 1,500 miles, with wear being as expected with a tire that keeps you so planted, at any angle. They are selling out everywhere, with all the major online retailers being out of stock. I highly recommend for the experience, not so much on the tread wear. It only gave me the option of mid or end of life on tire and with the rear being closer to the later, I picked end, but I'll definitely get a few hundred miles on the rear, with over a thousand or so on the front.