2023 ACE / Gute Fahrt UHP Summer Tyre Test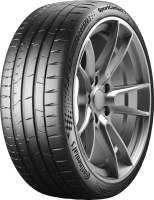 The first summer tyre test of 2023 has been published - the Gute Fahrt / ACE Europe UHP tyre test in the popular 235/35 R19 size using a Golf GTI.
Unfortunately the details of the test are somewhat limited, and this isn't a test that shares any raw data or percentage results. Instead they use a positive or negative scoring system, which really doesn't satisfy our geeky desire for data, so this write up will be limited.
The good news is that the new Continental SportContact 7 continues to dominate tests, winning by a considerable margin, and the steadily improving Pirelli P Zero PZ4 also scores very well.
Somehow the older Dunlop SportMaxx RT2 beat the slightly newer Goodyear Eagle F1 SuperSport, but both of these tyres were significantly older than the current Goodyear Eagle F1 Asymmetric 6, and speaking of absent tyres, the Michelin Pilot Sport 4S was also oddly missing.
Finally, it seems to be another under performing test result for the new Falken Azenis FK520. While the tyre still recieved a "Good minus" overall, Falken will be disappointed that their latest flagship product will be finishing behind Maxxis and two older tyres from Goodyear and Dunlop.
Results
View Results as a single table and adjust the score weighting