BFGoodrich g Grip All Season 2
The BFGoodrich g Grip All Season 2 is a Premium Touring All Season tyre designed to be fitted to Passenger Cars.
This tyre replaced the BFGoodrich g Grip All Season.
Tyre Reviews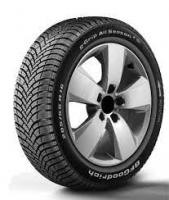 2021 Tyre Tests

2020 Tyre Tests

2019 Tyre Tests

2018 Tyre Tests

2017 Tyre Tests
Sorry, we don't currently have any label data for the BFGoodrich g Grip All Season 2
Sorry, we don't currently have any questions and answers for the BFGoodrich g Grip All Season 2. Why not submit a question to our tyre experts using the form below!
Ask a question
We will never publish or share your email address
g Grip All Season 2 Prices
Top 3 BFGoodrich g Grip All Season 2 Reviews
Excellent tyres for the price. Safe and predictable handling. It needs time to warm up but after they has great grip both dry and wet. They offer great comfort and these tyres are quiet, really quiet. The fuel consumtion is ok also. The only negative point is their design, you'll need a little time to get use to their odd steering, it is same as Michelin's All climate.
Given
94%
while driving a
Skoda Yeti
(205/55 R16 H) on
mostly country roads
for 6,000
average
miles
I went to my dealer for all season Kleber's, but he showed me these tires. He explained it's exactly the same design as Kleber but the price was lower. These tires are everything I wanted. Perfect dry and wet grip, stable cornering, better comfort, very quite and interesting for all season they spent me a money with better gas mileage to my summer tires. I've been impressed with the fact.
Snow grip is excellent and even the ice grip was better than I expected. I definitely recommend these Goodrich as a brilliant decision for one set tires in every climate.
Tree years and 28000 miles later...It's amazing how good these tires are. There is no significant change in the handling and braking at all. Only minor change is the slight noise increase but it's acceptable and normal at all. I live in area where summer is over 40C and in the winter we have - 20C, with lot of snow. I know I can ever relay on these. There are still about 5mm tread left so I suppose I'll use them for another year. Definitely recommend these tires.
Have you driven on the BFGoodrich g Grip All Season 2 tyre?
Have YOU got experience with the BFGoodrich g Grip All Season 2? Help millions of other tyre buyers
Latest BFGoodrich g Grip All Season 2 Reviews
Unparalleled wear and grip in the wet, particularly in snow. I have now done over 50,000 miles using these tyres - still have loads of tread left on my second set - running them on Tesla Model 3 Performance and it has gone everywhere in all weather's- I wouldn't buy anything else now.
Given
79%
while driving a
BMW Z3 roadster
(245/35 R18) on
a combination of roads
for 1,000
spirited
miles
Greetings from Canada. Having gone from 2 sets of Michelin Pilot Sport (excellent summer tire), to 1 set of Bridgestone Potenza (not a bad tire at all), to a new set of BFGoodrich g-Grip AS2, I must say I was shocked at the immediate difference in softness when cornering hard. I was so used to driving on rails and all of a sudden the car went "mushy" on turns. Also much noisier at their limit than the other two brands and overall feel soft . Which makes for a very comfortable and quiet ride especially when I put the roof down . Good grip on rainy roads but I wouldn't push the car in the rain. However I installed the new tires in March (couldn't wait to get my convertible out), and there was still snow on the ground and ICE on some spots in my parking lot. Now these tires were FANTASTIC even on icy surfaces! I could't move an inch with the other tires but these ones had grip and lots of it. VERY impressed! If you need a real All Season tire, for me this is it. ( I don't drive my BMW in the later part of the Canadian winters, I use Nokia Hakka9 Studded on my Range Rover and have been very happy). Cheers!