Dunlop has announced they will launch a fourth new tyre in their hypersport portfolio in March 2018. The Dunlop SportSmart TT has been developed to meet the needs of riders with the very latest sports bikes and performance roadsters who want to use the same tyre on track and for road riding.
The name SportSmart TT derives from Dunlop's road focused SportSmart range and adds the letters TT, which refer to "Track Technology".
The launch of the SportSmart TT marks Dunlop's comeback to a segment of the market where they last competed with the renowned Qualifier RR over a decade ago.
The SportSmart TT is the fourth new Dunlop hypersport tyre to be launched in the past year and completes Dunlop's strategy, announced last year, of taking a new approach to the segment in redefining their range around the goal of a 'tyre for every rider'.
Tyre Reviews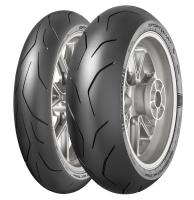 Sorry, we don't currently have any magazine tyre tests for the Dunlop SportSmart TT
Sorry, we don't currently have any label data for the Dunlop SportSmart TT
Sorry, we don't currently have any questions and answers for the Dunlop SportSmart TT. Why not submit a question to our tyre experts using the form below!
Ask a question
We will never publish or share your email address
Top 3 Dunlop SportSmart TT Reviews
Given
77%
while driving a
Kawasaki ZX10r
(225/45 R17) on
a combination of roads
for 1,000
spirited
miles
I have used these tyres for about 1000 road miles and 4 trackdays (fast group). I would say they look about half worn now. Dry grip is excellent, they feel very similar on track to the D212s I was using previously and I felt comfortable doing similar lap times. Dunlop reckon warmers aren't necessary and that seems to be the case; they get up to temperature very quickly. On warm dry roads they are just as good, you'd never run out of grip. They feel very stable and steer well. Wet conditions are a different story. They feel very vague and don't inspire confidence at all. I didn't have any slides as such, just don't feel they can be trusted at all. Overall I would say they are an excellent compromise for 50/50 road and track. You'll save money too - they last much longer than more focused trackday tyres.
Given
90%
while driving a
Yamaha R1
(190/45 R17) on
mostly country roads
for 500
spirited
miles
Bought these as I wanted a tyre that was usable on the road and could handle the odd track day, these do both with ease, they have super fast warm up time something you don't really get with track focus tyres but these are different. On the road you will not find there limits not unless your Michel dunlop or some other road racing god... On the track the same applies these really are a fantastic tyre, don't buy these if you want to use them to do 1000s miles up and down the motorway as they will not last... Expect no more than 3000 miles depending on how hard you ride..
Given
74%
while driving a
Kawasaki ZX10r
(225/45 R17) on
mostly country roads
for 3,500
spirited
miles
Before this i had the Michelin Power RS and wanted to give these Sportsmart TT's a try. I ride on the streets and also do trackdays. Both perform perfect on dry surface. On the track i believe the Sportsmarts are a little bit better, the feedback is a bit better when accelerating out of corners. Wet surface the Power RS is much much better then the Sportsmart, the Sportsmart is crap in wet weather. I must be very careful when its wet. The Power RS has much more grip and gives more confident in the wet. Also under 10 degrees be careful with kneedowns and stuff like that with the Sportsmart TT, with only a little bit too much throttle it could slide. Power RS easily warms up even with those temperatures. I will try the Pirelli Diablo Rosso Corsa 2 after these or the new Michelin Power GP. Would i recommend these tires? Yes, because they are close to track tires and for 12+ degrees and trackdays these tires are perfect.
Have you driven on the Dunlop SportSmart TT tyre?
Have YOU got experience with the Dunlop SportSmart TT? Help millions of other tyre buyers
Latest Dunlop SportSmart TT Reviews