The Maxxis Bravo MA751 is a All Terrain and Off Road All Season tyre designed to be fitted to SUV and 4x4s.
Tyre Reviews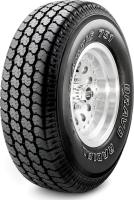 Sorry, we don't currently have any magazine tyre tests for the Maxxis Bravo MA751
Sorry, we don't currently have any label data for the Maxxis Bravo MA751
Sorry, we don't currently have any questions and answers for the Maxxis Bravo MA751. Why not submit a question to our tyre experts using the form below!
Ask a question
We will never publish or share your email address
Have you driven on the Maxxis Bravo MA751 tyre?
Have YOU got experience with the Maxxis Bravo MA751? Help millions of other tyre buyers
Latest Maxxis Bravo MA751 Reviews
I have these on my Mitzi challenger, for a cheap tyre you can't beat them! I drive my ute like it was my car, which is where I first found maxxis rubber hard to beat. My v8 Nissan fuga was pushed hard into most corners and Stopped on a dime. Any way, I've had BFGoodrich ATs, Goodyear grandtrek AT20s and Hankooks AT, These are better (for the price). Great in the dry / wet on our roads (New Zealand) really good on the beach, pretty good in mud, tracks clean out well. They do warm up a bit after a few hours of hard corners but they are not designed for the way there driven. Haven't noticed any warping. Little bit of noise but an adjustment of the stereo fixes that. I have just done 34,000kms,went through a WOF and still have 9mm on the rear and 8mm up front. I rotate them every 10,000kms and will need to fip them on the rim as the edge on the front is wearing out. I live in the land of a million corners and road surfaces, and these stand up big time. ( Again for the price) I have just ordered some 771 for my work ute and will compare the two before purchasing my next set, and if the extra coin is worth it might change, but they will be hard to beat.
Excelent grip on mud, gravel, good grip on light/heavy snow & tarmac. Average grip on wet tarmac. Noisy, but not Big deal, used on Subaru Impreza wagon.