The Maxxis Victra VR1 is a Extreme Performance Summer tyre designed to be fitted to Passenger Cars.
Tyre Reviews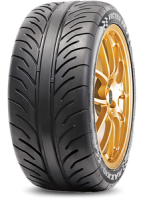 Sorry, we don't currently have any label data for the Maxxis Victra VR1
Sorry, we don't currently have any questions and answers for the Maxxis Victra VR1. Why not submit a question to our tyre experts using the form below!
Ask a question
We will never publish or share your email address
YouTube Review
Have you driven on the Maxxis Victra VR1 tyre?
Have YOU got experience with the Maxxis Victra VR1? Help millions of other tyre buyers
Latest Maxxis Victra VR1 Reviews
Given
73%
while driving a
BMW Z3
(205/55 R16) on
track
for 150
spirited
miles
I bought these tires as old stock manufactured 4-5 years ago. Available from Maxxis direct for just $59.95 per tire. That's less than half the price of most 200TW tires. Are they any good? Despite being 4-5 years old, they compare favorably to 200TW tires of that era. I have lap times in equivalent cars that show the performance is about the same as an NT05, RE11A, RT615K, etc. No, they aren't nearly as fast as the new autocross-focused tires. However, they are a good budget 200TW endurance tire. On track, I like a loud tire for audible feedback. These are sort of quiet even when pushed hard. That's the only downside. I haven't tried them in the rain.
Given
64%
while driving a
BMW 318
(/45 R17) on
track
for 0
spirited
miles
Feed back: Bought these tires for a Champcar race in the states which helped sponsored some of theevent. If your car podiumed, they sent you a few tires. ANyways we took the chance and podiumed and Won overall for Class C. The tires are responsive, fun, new. But once you get them really worked in a hot, they loose a bit of time. Some slight understeer Entry-Apex-exit. Not much over steer expereinced in the BMW 318ti. Would i buy or reccomend...Hmm, for the champcar series, I would reccomedn for a lighter car, not for a heavier. Other than that, they were a cheaper tire to try. Other are better for sure. But for the price, and a smaller car, they would be great for you on the track for a begginer's tire.
No complaints they hold well in all aspects and look amazing too