The Metzeler SPORTEC M7 RR is a Premium Touring Summer tyre designed to be fitted to Motorcycles.
Tyre Reviews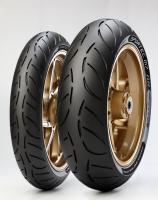 Sorry, we don't currently have any magazine tyre tests for the Metzeler SPORTEC M7 RR
Sorry, we don't currently have any label data for the Metzeler SPORTEC M7 RR
Sorry, we don't currently have any questions and answers for the Metzeler SPORTEC M7 RR. Why not submit a question to our tyre experts using the form below!
Ask a question
We will never publish or share your email address
Top 3 Metzeler SPORTEC M7 RR Reviews
Given
90%
while driving a
Kawasaki ZX636
(190/55 R17 W) on
a combination of roads
for 5,000
spirited
miles
i really enjoyed these Tyre's they break traction in the wet a little under power cornering but that's it otherwise solid. went through a puddle of water from farmer spray at 200 km/h without it budging.
Given
93%
while driving a
Honda CBR954RR 3
(190/55 R17) on
mostly country roads
for 4,000
spirited
miles
Amazing tyre, grip extremely well in the dry and good enough in the dry. They've inspired masses of confidence, great tyre. In my experience Metzeler M7RR are an overall better tyre than Pilot Power 3's, Pilot Road 3's, BT023's (all tyres ive tried in the past).
Given
93%
while driving a
Triumph Sprint RS
(180/55 R17 W) on
mostly country roads
for 1,000
spirited
miles
Not much to say, just great modern allroand sport tires. I bpuggt them because they were the winner of the big Motorrad sport tires test. Pretty good in the wet, great feeling. Chicken strips on the rear tire were already gone in the first 50 miles on them because of the confidence, even though I am aware new tires need to be "scrubbed in", grip seemed endless, even on colder road temperatures. Next week, I will take them to the track, and I am feeling quite confident, even if it's going to be wet.
Have you driven on the Metzeler SPORTEC M7 RR tyre?
Have YOU got experience with the Metzeler SPORTEC M7 RR? Help millions of other tyre buyers
Latest Metzeler SPORTEC M7 RR Reviews
I was going to whine about only getting 6000k's out of rear tyre, BUT after some research I probably got BETTER K's than I thought! Reason? well I ride pretty spirited ALL THE TIME!! except through town centres, I'm always on the BACK WHEEL whenever conditions allow, Oh I better tell you what I'm riding KTM 1290 Super Duke R 2018 Gen 2. With all the track pack etc everything KTM had in the catalogue!! CARBON FIBRE n ALL!! So a fair bit lighter than stock and a few more ponies! It's not called THE BEAST for nothing, It is a HOOLIGANS BIKE pure n simple, While I was checking chain and the normal things I noticed I could see steel bands what we used to call the canvas, I suppose it's carcase now, and I thought bloody hell It's only got 5841k's on it!!! Mind you I DONT DO BURN OUT'S But I'am wheelie mad I love this thing and I suppose popping the clutch @ 100kmh and then wheeling till 200 + might put a bit of wear on the centre of rear tyre. So I won't bag it BUT will praise it 'cause for handling and cornering and out right riding with CONFIDENCE "YOU CAN'T GO PAST A SET OF THESE" Damn things stick like shit to a blanket! I'll just have to get a jar n everytime I go for a ride put some notes in it for the tyre fund! (spent all my money on the toy) now I gotta get a second job to keep up the maintance Oh well I'll enjoy the hell out of it! NOW what can I sell so I can get a NEW TYRE!! METZLER OF COURSE!!
Given
90%
while driving a
Kawasaki ZZR1400
(225/45 R17) on
mostly country roads
for 3,000
spirited
miles
FFF model 15 plate zzr14
2nd set of these very good tyres that i would recommend.M7RR F & R
they warm up quickly and give good feedback in all conditions - total trust in the front as well in all conditions..
I run full power and keep the traction KTRC in the 1 position.
I keep the tyres at the recommended 42 front n rear. you can feel the difference if they are down in pressure with the turn in.
Generally get approx 3000 miles out of the back with a bit more on the front is capable but change them together at the same time due to the speed n all - best to stay safe with the tread!....especially due to what happens with the right wrist. the bike is awesome- recommend it to everyone.
I feel a lot better on these than the original S20's she came on - a noticeable step up in performance and longevity even tho I do lets say spirited riding constable in the corners n straights
I was pleasantly surprised how well these last - and of course got again - pricey i know but worth it.
My tyre dealer insists that I should be running mich power 3's but he is a michelin man.
he says these are sports tyres and not recommended but i am very comfortable with them
I used to ride BT023's on my 08 zzr14 that were fine, a great tyre but the 14 needs more and i still feel these metz M7rr are a good measure above
hope this helps as I always look to hear what other nutters are running as well
Given
87%
while driving a
Kawasaki ZX10r
(190/55 R17) on
a combination of roads
for 3,000
spirited
miles
One of the best 'real world' sports bike tyres you can get in my opinion. I have used them for everything from touring to trackdays and they have been great. Grip front and rear is predictable, with plenty of feedback if you are pushing your luck. Unusually for a sporty tyre they are also pretty decent in the wet with a secure, planted feel. Longevity is also very good for this sort of tyre. Recommended.
Given
87%
while driving a
Suzuki Sv650s
(160/60 R17) on
mostly country roads
for 2,000
spirited
miles
Admittedly these were fitted to replace the OE Dunlops which were so old that naming them might not be fair, but I've been really pleased with these tyres. Lots of laps of the TT course, Bishopscourt ractrack in standing water conditions and Northern Ireland roads have not produced any moments of concern. I guess these tyres are designed for bikes with alot more power and speed, and as such anything I or the SV have thrown at them has been well managed.
It's good to buy a brand that supports the Ulster Grand prix so strongly, but there's no trade off in tyre ability. These are grippy from the get-go and I feel confident in them, which is useful when I'm lacking the power to trouble bigger bikes on the straights. So it's braking and cornering that give these tyres a work out, and it's been all good. They are wearing evenly, but I've no isea what they'll be good for. I'm sure 5000 miles will be easily acheived, but I'll have wait to wait and see.
They look pretty cool as well, is that's an issue!
Amazing tyres for a sport riding style. Got the pair fitted on my Yamaha XJ6 and it was real confidence boost. Never had a single slip with these tyres. When warmed up properly these are track grip level. Fast highways corners around 180km\h with no drama. The dry grip on these are on another level, I got to embarasse anyone riding on sport touring tyres with the M7. Go to ride alongside with anyone who praises the Angel GT, Pilot Roads and they will feel ashamed of themselfs.
Wet surface grip was enough for safe rides, even though I never pushed hard on very wet surfaces. Few rides under heavy rain and not a single problem. Silica compound did it's job.
Downside - Thread life. The harder compound on the center o the rear tyre could be wider (it's only about 4cm wide) and harder. As I couldn't always be doing corners the center of the tyre didn't wear evenly with shoulders (quite understandable) and by the time I had to replace the rear tyre there was plenty of rubber on the shoulders.
Rear tyre did 7.000 km.