The Michelin Power 5 is a Ultra High Performance Summer tyre designed to be fitted to Motorcycles.
Tyre Reviews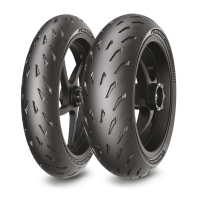 Sorry, we don't currently have any magazine tyre tests for the Michelin Power 5
Sorry, we don't currently have any label data for the Michelin Power 5
Sorry, we don't currently have any questions and answers for the Michelin Power 5. Why not submit a question to our tyre experts using the form below!
Ask a question
We will never publish or share your email address
Top 3 Michelin Power 5 Reviews
Error in the first review. The handling is excelent
I think that it is a very good option in the street sport tyres range. In comparison with Bridgestone s22, Michelin Power 5 is more agile in all inclinations, and that, in the limit, I think that suposes less confidence. But only in terms of feeling, because, at the moment, i haven't had any bad surprise. The braking phase is very good, with a lot of feeling, also entering at the corner braking hard. Is great with typical surprising mounts of sand or gravel on the road, the tyre can eat this gravel with any problem thanks to this deep furrows, that was a great surprise for me, because with s22, a dirty road = small sleep. At the moment I only have the objection that at maximum inclination, is less stable than Bridgestone s22. I hope more duration of Michelin (1000 km more than s22 and I will be happy). If not, I Will come back to s22
Have you driven on the Michelin Power 5 tyre?
Have YOU got experience with the Michelin Power 5? Help millions of other tyre buyers
Latest Michelin Power 5 Reviews
Used these on my ktm duke 790 and instantly knew these were my new favourite tyres. Quick warm up and brilliant feel. Compound felt spot on and even road hard in the rain still in sports mode and the traction light never lit up. Real world excellence
Given
71%
while driving a
Honda CB1000r
(180/55 R17) on
mostly country roads
for 2,500
spirited
miles
Power 5 is an Ok tire, At 2500 miles it is starting to show some squaring off, tread depth is 2mm rear, 3mm front. I think the S22 out performs this tire, the S22 is also less expensive. If I was going to spend this level of money again it would probably buy the M9RR.