The Sunny SN3860 is a High Performance Winter tyre designed to be fitted to Passenger Cars.
Tyre Reviews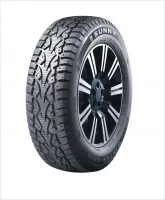 Sorry, we don't currently have any label data for the Sunny SN3860
Sorry, we don't currently have any questions and answers for the Sunny SN3860. Why not submit a question to our tyre experts using the form below!
Ask a question
We will never publish or share your email address
Top 3 Sunny SN3860 Reviews
Given
69%
while driving a
Toyota Corolla
(205/55 R16) on
mostly town
for 5,500
average
miles
The grip pattern looks like Toyo's .. Just sayin.. Lasted four seasons of Canadian city driving... Don't buy these if you travel on unsalted country roads where's there's ALoT of snow... Really made for Toronto or Montreal. I guess I can go a fifth year but I have little patience.. So I'll be trying hankooks next time around. I'll give them a pass but don't expect to keep up with michelins or any other brand names. Decent tire gets the job done... Good value!
"It was amazing and previously unheard of that in our winter tire comparison tests, we found a studded tire that was lost in ice grip tests for even the weakest friction tires! So by no means should you buy a Sunny Winter Grip SN3860 tire, no matter how cheap it is." Winter tyre test / Magazine: Tekniikan Maailma 17/2020 / Finland ----------------------------------------------------------------------------------------------- Oli hämmästyttävää ja ennen kuulumatonta, että talvirengasvertailumme testeissä löysimme nastarenkaan, joka hävisi jääpitoa mittaavissa kokeissa jopa heikoimmille kitkarenkaille! Sunny Winter Grip SN3860 -rengasta ei siis missään nimessä kannata hankkia, saipa sen miten halvalla hyvänsä. Tekniikan Maailma 17/2020
Given
84%
while driving a
Audi A3 2.0 TDI 140
(225/65 R15) on
mostly motorways
for 0
average
miles
Excellent tyres. Nothing to complain for. Grip very well in snow. Very good.
Have you driven on the Sunny SN3860 tyre?
Have YOU got experience with the Sunny SN3860? Help millions of other tyre buyers
Latest Sunny SN3860 Reviews
I changed the low profile wheels and tyres to reduce the harsh ride and replaced with alloys and these Sunny winter tyres, which I have run year round. They have been amazingly hardy and great in snow. Not bad in the dry, but leave a big gap if the road is damp rather than wet! That's the only reason I won't be buying them again. Having said that, I just slowed down a bit, so maybe no bad thing.
Given
50%
while driving a
Chevrolet Lacetti
(225/45 R17) on
mostly country roads
for 4,000
average
miles
Not good when there's no snow.; Great when there's snow!
Given
96%
while driving a
Audi 80 B4
(225/45 R17) on
a combination of roads
for 10,000
spirited
miles
Have studded Sunny/Wanli. Never had such a good expierence with brand tyres.