The Michelin Alpin is a High Performance Winter tyre designed to be fitted to Passenger Cars.
This tyre has been replaced by the Michelin Alpin A4.
Tyre Reviews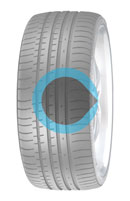 Sorry, we don't currently have any magazine tyre tests for the Michelin Alpin
Sorry, we don't currently have any label data for the Michelin Alpin
Questions and Answers for the Michelin Alpin
2016-09-21 - Are these tyres ideal for driving to ski resort in Italy crossing Alps in February: Volvo XC90
The Michelin Alpin range are perfect for ski resort visits!
---
Ask a question
We will never publish or share your email address
Have you driven on the Michelin Alpin tyre?
Have YOU got experience with the Michelin Alpin? Help millions of other tyre buyers
Latest Michelin Alpin Reviews
Given
91%
while driving a
Fiat 500 Abarth
(195/45 R16 H) on
a combination of roads
for 8,000
spirited
miles
Very good tyre impressive grip in the wet as in the snow (in Romania we have a lot of snow in the winter), quiet and progressive enough and very comfortable.

Buy again: Yes more than likely
Wery good grip on snow and ice, bought a car with Dunlop Garspic DS2 couldnt start moving without drifting, after week bought Alpin, difference wery big.
after 10000 km no signs of heavy usage. still more than 7mm. Very quit and stabile even on big speed and in curves. recomend it to anyone.
Great winter tyre, winter 2011/12 was my first season with them, so I didn't get to try them in snow, but noticeably better in the wet and especially in cold/wet conditions. Bought secondhand this time, but will buy them new when the time comes.
Got these tyres on special offer for winter driving & work a treat on the motorway and very resonsive. Around the awful city of Sheffield these tyres are a bit to keen and can feel the abs kicking as the tyres grip to the gravel on the road. Not a bad thing and proves how good at gripping they are. Tyres only 1,000 miles old and not driven hard so virtually no wear at all. Can't really comment on driving in dry conditions and will swap these back to non winter tyres when it warms up.
Given
76%
while driving a
BMW M3
(255/40 R18 V) on
a combination of roads
for 1,000
spirited
miles
First season on winters, no issues so far but can't give a realistic rating on Wear. It has only been wet or cold since fitting them so again dry grip may be slightly unfair.

Was out in the snow on Sunday without any problems. Good traction and none of the back-end action you may expect from a rear wheel drive in the snow. In the slush and wet still performing well and giving the performance I am used to.
By far the best tyres I have ever had. If you have to get around in the snow then fit a pair. I'm driving a front wheel drive vectra sri which usually has crap road holding and massive understeer except in the snow because it goes nowhere. I fitted a pair of these michelins on the front and haven't had any problems in the snow or ice. The difference in the wet is so noticable I thought I was driving a different car. They might be expensive new but I bought 2 on ebay part worn for buttons. They might only last me till spring but I'll be buying more for next years snow - much cheaper option than buying a range rover and you won't look like a complete tit into the bargain.
Given
99%
while driving a
Mazda 3 Series
(175/65 R13) on
mostly country roads
for 0
average
miles
the best tyres ever, tyres that saved me- my car in many different situations, now in the snow didn't show any difficulties at all, super tyres, recommend to all drivers, snow, rain or dry tyres are just made to save you and others on the road, just Perfect of all 100%