The Sunny Wintermax NW 211 is a Touring Winter tyre designed to be fitted to Passenger Cars.
Tyre Reviews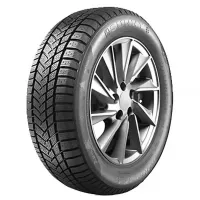 Sorry, we don't currently have any label data for the Sunny Wintermax NW 211
Sorry, we don't currently have any questions and answers for the Sunny Wintermax NW 211. Why not submit a question to our tyre experts using the form below!
Ask a question
We will never publish or share your email address
Have you driven on the Sunny Wintermax NW 211 tyre?
Have YOU got experience with the Sunny Wintermax NW 211? Help millions of other tyre buyers
Latest Sunny Wintermax NW 211 Reviews
Given
71%
while driving a
Nissan Pulsar
(205/50 R17) on
mostly town
for 3,000
average
miles
I bought these as a quick cheap stopgap for winter steelies on a newer car. The main use of these will be simply as commute tyres. Maybe 2000ml a year for 4-5 month to avoid scrubbing summer alloys and better traction in the very low temps.
I can't vouch much for wet grip or grip overall as the car is very uninspiring and feels very floaty especially at motorway speeds compared to Contisport 5s.
The car has a great traction control system on summer tyres anyway but getting to work was never an issue and didn't really feel like it would be.
I just do not like the feel when driving. I have never pushed the car hard on these tyres for work of not being able to read them unlike summers.
I would not recommend these and would not buy again but feel they are still advantageous on slow city commutes and inclines compared to summers.
These are quiet on the roads.
No confidence when the car had 4 adults on motorway/A-list Roads today but it was very mild around 9'c.


Used this make of tyres now for over 10 years on different cars I always buy these when get a new one .
They are excellent on wet or snow or icy roads .
Are quieter than the harder summer tyres & not much difference in mpg up to the old continental eco contact 5 that were original fitment from production line.

My third pair of winter tyres 205 55 16 on my Mondeo diesel estate. General country and town mileage. About 15k on first pair, just fitted second pair. They're so good, for the money,I got the second pair, for a matched set.
I no longer get that scary feeling when I hit standing water/slush at motorway speeds.
They are a bit noisier than my summer Goodyears, in the dry, it's not often dry when I have them on, so it makes no difference to me in the real world.
They are a bit duller feeling than summers, but in bad weather that is a good thing for me.
They did wear quicker in the summer, while getting summer alloys refurbished.
The breakaway is very gentle, if a bit earlier, which makes for a safer licence!
Fuel consumption is no worse than most summers, made up for by more moderate speeds in bad weather.
In real snow, I can get places where 4x4s on allseason tyres can't go, hills are no problem, up or down.
I suspect they may be a Chinese ripoff of last generation Sotto zeros, but half the price!