2010 EVO Tyre Test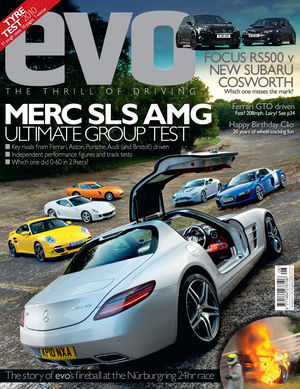 EVO magazine has a huge amount of respect in the industry, making their
tyre test in 2007
one of the most talked about tyre tests of the year. Since 2007 the Germans have put out a number of excellent group tyre tests, but the pages of EVO have remained strangely devoid of the black boots. Thankfully this month that has all changed.
Feeling the high expectations the EVO writers selected 9 tyres to test and visited the Contidrome in Germany to put them through their paces over 9 different tests.
As EVO chose an MX5 as their test mule which has relatively small rear tyres (205/45 r17), the choice of high performance tyres was somewhat limited and the final mix a little bizarre.
Tyres on test:
-
Bridgestone Potenza RE050A
-
Continental Contisportcontact 3
-
Hankook Ventus V12 EVO
-
Kumho Ecsta LE Sport KU39
-
Michelin Pilot Exalto PE2
-
Uniroyal Rainsport 2
-
Vredstein Ultrac Cento
-
Yokohama Advan Neova AD08
-
Zeetex HP103
Why is this a strange mix? The Contisport 3 now has a big brother in the Contisport 5P, the Bridgestone RE050A is getting a little long in the tooth, the Vredstein Ultrac Cento is out performed by the Ultrac Sessanta (which was tested in the 2007 test), the Pilot Exalto is slower version of the new Pilot Sport PS3, and just as you start to think this isn't an ultra high performance tyre test they throw in the Yokohama Advan Neova AD08 - a hardcore max performance / track day tyre... Confusing.
What can we learn from this? Interestingly there's some good data regarding the AD08's performance compared to a normal road tyre. While excelling in the dry, the Yokos were the most likely to aquaplane (bar the budget Zeetex HP103) in a straight line, and so poor in the curved aquaplaning test they only managed 54% of the speed of the test winning Uniroyal Rainsport.
The rest of the group isn't a huge surprise. The Contisport 3 just beat the Uniroyal Rainsport 2 by being consistently good everywhere, the budget Zeetex were rubbish proving you get what you pay for and the rest of the group traded places test by test and all finished within 7% of each other.
A little note to EVO, for next years test please follow the example of
Auto Bild
and find a nice tyre size that all the new extreme performance summer tyres are produced in. And invite us.
As always, make sure you pick up a copy of EVO issue 146 for the full breakdown of results, and in general an excellent motoring magazine.
Results
Wet Braking
1. Continental Contisportcontact 3
2. Bridgestone RE050A
3. Uniroyal Rainsport 2
4. Michelin Pilot Exalto
5. Hankook Ventus K12 EVO
6. Vredstein Ultrac Cento
7. Yokohama Advan Neova AD08
8. Kumho Ecsta KU39
9. Zeetex HP103
Dry Braking
1. Continental Contisportcontact 3
2. Bridgestone RE050A
3. Yokohama Advan Neova AD08
4. Hankook Ventus K12 EVO
5. Uniroyal Rainsport 2
6. Michelin Pilot Exalto
7. Vredstein Ultrac Cento
8. Kumho Ecsta KU39
9. Zeetex HP103
Laptimes (dry)
1. Yokohama Advan Neova AD08
2. Bridgestone RE050A
3. Continental Contisportcontact 3
4. Michelin Pilot Exalto
5. Kumho Ecsta KU39
6. Vredstein Ultrac Cento
7. Hankook Ventus K12 EVO
8. Uniroyal Rainsport 2
9. Zeetex HP103
Subjective (dry)
1. Yokohama Advan Neova AD08
2. Uniroyal Rainsport 2
3. Bridgestone RE050A
4. Vredstein Ultrac Cento
5. Continental Contisportcontact 3
6. Michelin Pilot Exalto
7. Kumho Ecsta KU39
8. Zeetex HP103
9. Hankook Ventus K12 EVO
Lap time (wet)
1. Continental Contisportcontact 3
2. Vredstein Ultrac Cento
3. Michelin Pilot Exalto
4. Bridgestone RE050A
5. Uniroyal Rainsport 2
6. Hankook Ventus K12 EVO
7. Yokohama Advan Neova AD08
8. Kumho Ecsta KU39
9. Zeetex HP103
Lateral G (wet)
1. Continental Contisportcontact 3
2. Michelin Pilot Exalto
3. Vredstein Ultrac Cento
3 = Bridgestone RE050A
5. Uniroyal Rainsport 2
5= Yokohama Advan Neova AD08
7. Hankook Ventus K12 EVO
8. Kumho Ecsta KU39
9. Zeetex HP103
Subjective (wet)
1. Continental Contisportcontact 3
2. Michelin Pilot Exalto
3. Vredstein Ultrac Cento
4. Uniroyal Rainsport 2
5. Bridgestone RE050A
6. Hankook Ventus K12 EVO
7. Yokohama Advan Neova AD08
8. Kumho Ecsta KU39
9. Zeetex HP103
Aquaplanning Test (straight)
1=Uniroyal Rainsport 2
1=Vredstein Ultrac Cento
3. Hankook Ventus K12 EVO
4. Continental Contisportcontact 3
5. Michelin Pilot Exalto
6. Bridgestone RE050A
7. Kumho Ecsta KU39
8. Yokohama Advan Neova AD08
9. Zeetex HP103
Aquaplanning Test (curved)
1. Uniroyal Rainsport 2
2. Vredstein Ultrac Cento
3. Hankook Ventus K12 EVO
4. Kumho Ecsta KU39
5. Continental Contisportcontact 3
6. Zeetex HP103
7. Michelin Pilot Exalto
8. Bridgestone RE050A
9. Yokohama Advan Neova AD08
Overall
1. Continental Contisportcontact 3
2. Uniroyal Rainsport 2
3. Vredstein Ultrac Cento
4. Bridgestone RE050A
5. Michelin Pilot Exalto
6. Yokohama Advan Neova AD08
7. Kumho Ecsta KU39
8. Hankook Ventus K12 EVO
9. Zeetex HP103
Discussion:
comments powered by