2011 ACE Winter Tyre Test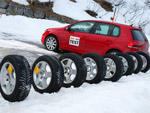 With many of the major big brands introducing new winter tyres for the 2011 season, winter tyre tests have never seen so interesting. This year, Auto-mobile Club Europe [ACE] tested 8 winter tyres in the popular 205/55 R16 91H size on a VW Golf.

Five of the tyres on tests were all new for 2011, with the Dunlop Winter Sport 4d, Goodyear Ultra Grip 8, Nokian WR D3, Pirelli Snowcontrol Serie3 and Semperit Speed Grip 2 all having their first test outings. They were joined by the Continental Winter Contract TS830, Fulda Kristall Control HP, and Michelin Aplin A4.

ACE grouped their test results into 4 major sections - Snow, Wet and Dry performances were each in their own group with the usual braking, traction and steering tests, and 'Cost / Comfort' was given its own section which took into consideration pass by noise, rolling resistance and approx retail price (listed as 'Misc' below).
The Results
View Results as a single table and adjust the score weighting
Total: 225
Dry: 45
Wet: 72
Snow: 80
Rolling Resistance: 14
Noise: 9
Misc: 5

Top scores in the snow, best dry braking and a good subjective feel means the Goodyear Ultra Grip 8 wins overall.


Read Reviews

Total: 223
Dry: 43
Wet: 72
Snow: 70
Rolling Resistance: 20
Noise: 9
Misc: 9

Surprisingly strong in the wet and snow, the Semperit Speed Grip 2 is only slightly let down by its dry performance. As the cheapest tyre on test with the lowest rolling resistance it scores very well in the 'comfort' section.


Read Reviews

Total: 218
Dry: 47
Wet: 75
Snow: 68
Rolling Resistance: 15
Noise: 9
Misc: 4

Slightly let down by its snow performance, the Continental Winter Contact TS830 wins the wet and dry tests by scoring top in each subjective test


Read Reviews

Total: 215
Dry: 45
Wet: 66
Snow: 77
Rolling Resistance: 14
Noise: 9
Misc: 4

The new Dunlop Winter Sport 4D places a strong 4th, only slightly let down by its curved aquaplaning properties


Read Reviews

Total: 215
Dry: 45
Wet: 67
Snow: 72
Rolling Resistance: 17
Noise: 9
Misc: 5

The new Pirelli Winter Snow Control Serie3 has a good all round performance, only slightly let down by its snow braking and price


Read Reviews

Total: 205
Dry: 46
Wet: 56
Snow: 68
Rolling Resistance: 18
Noise: 9
Misc: 8

As with most Nokians aimed at the European market, the Nokian WR D3 scores well in the wet and dry tests but is a little let down by its snow handling. Top marks in subjective dry handling indicates this will be an excellent cold weather tyre for the less snowy areas


Read Reviews

Total: 193
Dry: 45
Wet: 56
Snow: 66
Rolling Resistance: 15
Noise: 8
Misc: 3

While the Michelin Alpin A4 finished 7th, there was no single area the tyre was weak in. The position was more a reflection of how far the competition had come with their new patterns.


Read Reviews

Total: 171
Dry: 37
Wet: 50
Snow: 56
Rolling Resistance: 13
Noise: 8
Misc: 7

Rounding out the test was the Fulda Kristall Control HP. The Fulda struggled with both wet and dry grip, and scored poorly subjectively in all tests.


Read Reviews