2012 Auto Express Summer Tyre Test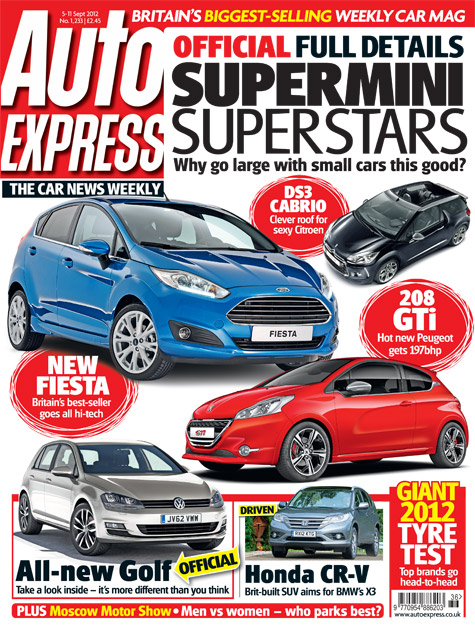 This years Auto Express summer tyre test is probably the closest test we've seen, and with all 8 tyres within 2% of each other overall even a slight change in the weighting of the test categories would dramatically change the overall result!

As usual, Auto Express have focused on the more popular size of 205/55 R16 91H, with this years test vehicle being FWD Skoda Octavia. The test was conducted at Bridgestones test facility in the south of Italy, and covered the usual thorough array of tests, including 5 wet tests, 2 dry tests plus noise and rolling resistance tests.


The Results
With the results so close, one thing worth keeping in mind is only 1% of accidents in Europe are caused by aquaplaning, and while Auto Express reduced the influence of aquaplaning in the overall results, many tyres struggled to match the Goodyear EffiecientGrip in the curved aquaplaning tests and were marked down accordingly. Without the standing water tests, tyres like the Nokian Xline would have finished higher as it aced the wet handling and grip tests and was extremely strong in the dry too. Likewise, it's no surprise the bottom 3 tyres in the test were the top 3 tyres in the rolling resistance tests, so if fuel savings are your number one priority be sure to check these out.
Scoring and commentry can be found below, with further details on Auto Expresses website well worth a
read here
.
Total: 863.8
Dry: 195.8
Wet: 491.1
Rolling Resistance: 76.9
Noise: 100

Goodyear win the test thanks to their usual strong wet performance. Miles ahead of its nearest rivals in the curved aquaplaning tests and winning the straight line test, even with the score weighting adjusted to negate any unfair advantage the Goodyear still wins. Getting within 1.5% of the best in the dry, the Goodyears only drawback is a mid pack rolling resistance


Read Reviews Buy from £57.64

Total: 851.1
Dry: 196.3
Wet: 477.3
Rolling Resistance: 78.7
Noise: 98.8

The Vredestein Sportrac 5 is another tyre which prioritises wet grip over fuel economy. Even stronger in the dry than the Goodyear, the Sportrac 5 puts in an excellent all round performance to place second


Read Reviews

Total: 851.9
Dry: 194
Wet: 482
Rolling Resistance: 76.9
Noise: 99

Nearly last in the dry, the new Nexen NBlue HD was saved by its strong wet and aquaplaning performance to secure 3rd place


Read Reviews Buy from £65.38

Total: 849.8
Dry: 197.6
Wet: 479.4
Rolling Resistance: 75.3
Noise: 97.5

One of the sportier tyres on test, the Dunlop showed a strong balance between wet and dry performance. At the noisiest tyre on test, it was just beaten to 3rd by the Nexen


Read Reviews Buy from £78.08

Total: 842.4
Dry: 197
Wet: 472.5
Rolling Resistance: 72.9
Noise: 100

The new Nokian xLine, due at the end of this year, put in an extremely strong performance to joint 4th place. Best in every test in the wet, and 2nd in the dry, the new Xline was let down by an average aquaplaning result and a poor rolling resistance


Read Reviews

Total: 852.7
Dry: 199.1
Wet: 458.9
Rolling Resistance: 95.9
Noise: 98.8

Continental seem to have traded rolling resistance for wet grip. The usually strong in the wet EcoContact averaged 6th best in the wet tests, and could only manage 5th for noise, but had an extremely low rolling resistance and was the best in dry braking


Read Reviews Buy from £79.02

Total: 842.2
Dry: 198
Wet: 462.3
Rolling Resistance: 83.3
Noise: 98.6

The new Bridgestone T001 was the strongest tyre in the dry handling test, but its relatively inconsistent wet performance left it down in 7th place


Read Reviews Buy from £70.78

Total: 846.3
Dry: 196.9
Wet: 450.3
Rolling Resistance: 100
Noise: 99.1

The new Michelin Energy Saver+ had the best rolling resistance, but was the weakest tyre in wet handling, proving the balance between fuel economy and wet grip is still difficult to master. Only being average in the dry left the Michelin in last place


Read Reviews Buy from £84.90