The Nexen N Blue HD is a High Performance Summer tyre designed to be fitted to Passenger Cars.
Tyre Reviews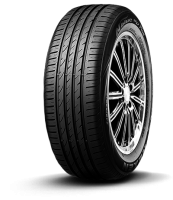 2014 Tyre Tests

2013 Tyre Tests

2012 Tyre Tests
| Size | Fuel | Wet | Noise | Weight |
| --- | --- | --- | --- | --- |
| 185/65 R15 88T | C | B | 67 | |
| 205/55 R16 91V | C | C | 73 | |
| 205/55 R16 91H | C | C | 72 | |
| 215/55 R17 94V | E | B | 69 | |
| 225/40 R18 88V | E | B | 69 | |
| 235/45 R18 94V | E | B | 71 | |
Sorry, we don't currently have any questions and answers for the Nexen N Blue HD. Why not submit a question to our tyre experts using the form below!
Ask a question
We will never publish or share your email address
Top 3 Nexen N Blue HD Reviews
Given
67%
while driving a
Saab Automobile
(215/55 R16 V) on
mostly town
for 2,000
average
miles
Bedded in after a 1000 miles. Drives OK, good value. Good write up on Auto Express. http://www.autoexpress.co.uk/accessories-tyres/60111/tyre-test-2012
Given
72%
while driving a
Peugeot 206
(185/65 R14 H) on
a combination of roads
for 16
easy going
miles
Fitted all round on my Peugeot 206 SW in October 2013.
16,000 miles later the front tyres are almost down to the limit but the rear tyres have plenty of life left in them.
I use the car for commuting between Kent and Hertfordshire when my wife needs our Mondeo or it's at the garage (fairly frequently!)and haven't noticed any excessive noise on the long motorway runs.
I've never felt I was going to lose the car when breakiing or cornering hard - that long left hander from Hemel Hempstead onto the southbound M1 is a good test at 40-50 mph - although they did feel a bit bouncy, like new trainers, when they were first fitted. That's gone now but they still give a decent ride.
At under £34.00 each I would say these tyres have been pretty good value and I'm likely to replace the two worn tyres with the same again.
Given
51%
while driving a
Volvo S40 1.8SE
(205/50 R17 W) on
a combination of roads
for 4,000
average
miles
Tyre noise was very low when first fitted but after 4,000 miles the noise off the front tyres is much louder, to the point of being noticeable at 25-30mph and unbearable by 50mph. Noise is definitely increasing with wear, which doesn't look like it will be much more than 10K on the fronts, and possibly 15k on rears. Having to seriously consider replacing fronts due to road noise and would not buy the same again.
Have you driven on the Nexen N Blue HD tyre?
Have YOU got experience with the Nexen N Blue HD? Help millions of other tyre buyers
Latest Nexen N Blue HD Reviews
Given
73%
while driving a
Volkswagen Polo 1.2
(185/60 R15 H) on
mostly motorways
for 29,000
spirited
miles
Got them as OEM on my new Volkswagen Polo 1.2 90HP in 2015, in winter I use winter tyres, after 3 seasons in front and 2 seasons in the rear, I have to change 2 tyres (legal limit) after about 47,000 km (29,000 miles). I think I'll change the remaing 2 tyres in the middle of next summer. I never had problems in the dry or in the wet. I make a lot of freeway in Switzerland and I go to the maximum legal speed also in the rain. I think fuel consumption is good, around 6.1 liter/100 km. The wear could be maybe better, but it's not very important for me. Next spring I'll buy different 2 new tyres because I would like to have more confort and less noise. But I think these Nexen N-Blue HD are safe tyres and the price is very low, so I can recommend.
Given
69%
while driving a
Kia Motors Forte
(205/55 R16) on
a combination of roads
for 15,000
spirited
miles
Got these in my from the OEM in a KIA Forte.
In the beginning, the tires were great, they felt awesome, great grip dry and wet, but after 10,000 kms, I discovered "bumps" in one tire, a big one. I then use the spare tire (same tire) and it also gets a bump in the side. Suddenly, I don't know when, I've got a second bump in the tire, definitely I must change it (the 4 of them I suppose now).
Also after +20,000 kms, I start feeling less grip in the dry road. Also I kind of feeling "less contact" to the road.
Also, they sound more when breaking or in rough curves. Neither of these sounds happens at the beginning.
Know at high speeds, when need more breaks, I feel how the car moves a little to the sides left-right, despite I have ABS. So I feel the grip also is getting worse.
I drive a lot between cities in Mexico, and I know the quality of the streets in Mexico isn't the best, In Mexico City also there are more bumps than the lunar surface, so these tires are not suitable for this country.
Also, the wear is not great.
For Mexico's streets, I recommend Michelin Energy XM2, it really supports rough treatment... believe, sadly this model is now discontinued by Michelin for this size.

Given
69%
while driving a
Skoda fabia 3 hatchback
(185/60 R15 T) on
a combination of roads
for 341,746
average
miles
Got them on my new fabia 2 years ago, i done 55,000km with them, first 40,000km was great for the tyres value, great grip on dry and wit roads, they give me the confidence to drive on 120km/h on highway in a middle of rainstorm and they performed well, average in noise and comfortable , they starts to lose grip on hills and wet road on 45,000km and they a bit noisy, not the worst but they need to be replaced.
after having travelled 2000km. I just have to get rid of them. they are the noisiest tyre I have had.