Bridgestone Battlax BT 021
The Bridgestone Battlax BT 021 is a High Performance Summer tyre designed to be fitted to Motorcycles.
Tyre Reviews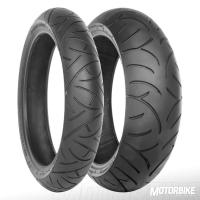 Sorry, we don't currently have any magazine tyre tests for the Bridgestone Battlax BT 021
Sorry, we don't currently have any label data for the Bridgestone Battlax BT 021
Questions and Answers for the Bridgestone Battlax BT 021
2016-05-22 - What should the tyre pressure be for a ducati multistrada 1000ds 2005, ducati list 32 front & 36 psi rear
Always start with the bike manufacturers suggested pressure, then try adjusting them a few PSI either way to see if there's a better balance for your riding style.
---
Ask a question
We will never publish or share your email address
Top 3 Bridgestone Battlax BT 021 Reviews
Given
84%
while driving a
Suzuki Bandit 1200 S
(180/55 R17 W) on
a combination of roads
for 0
spirited
miles
I never read the opinions about these so my feelings are unaffected by what others think - I ride a big bandit and I ride it hard. I used 021 on the front and rear. The bike never seemed unstable or unpredictable. The grip is excellent in corners even when it's cold the rear would not slip when I throttled out. I ride aggresively and try to push the limits - never had serious situation. the front however was eaten up quite quickly - I did 3,5kkm and the sides got slick. The top of the tyre was still ok.
I didn't get another set as I went for 023 instead. I would recommend 021 for heavy bikes and for riders who want a good grip in the corners and decent wear. I never go extreme in the rain so I can only tell that when you use your head while riding on wet there's little probability that these tyres will surprise you.
Given
66%
while driving a
Suzuki SV650S
(160/60 R17 W) on
a combination of roads
for 12,000
average
miles
Horrible just horrible. I fitted these to the SV650S I had thinking they would be as good as the BT020's. They were not, avoid at all costs. No wet grip and barely any dry, feedback was bad then they would let go. The turn in was hard and seemed like they tried to fight it till it then flopped over. I had no confidence in these tyres at all. Unfortunately they lasted 12000 miles and I had to put up with them. Buy something else!
Given
69%
while driving a
Honda cb 600 f hornat
(120/70 R17 W) on
a combination of roads
for 4,000
spirited
miles
g
Have you driven on the Bridgestone Battlax BT 021 tyre?
Have YOU got experience with the Bridgestone Battlax BT 021? Help millions of other tyre buyers
Latest Bridgestone Battlax BT 021 Reviews
Grip great - wet or dry. Found that the tire was a bit of a hard ride though. Had excellent wear - 22000km mostly commuting in heavy traffic!
Since i bought my cb600 Hornet 2012 it was fitted with those heavy tyre, I did change it at 18000 (1500 after i bought the bike) central of the tyre was almost flat but still a lot on left and right side, Im going to change it again after almost a year know and 32000ml on a clock, not bad 14000miles with it but still the same problem both sides still very good and central flat, due of taking the motorway every day but still going for the same I'm quiet happy with those
Given
96%
while driving a
Suzuki GsxR 600
(180/50 R17) on
a combination of roads
for 2,000
spirited
miles
i"ve only been riding for 2 years now,but i have done some miles,i"ve done around 45k,and it"s Bridestone every time for me,they have never let me down yet(touch wood)....Ha,they do what there meant to do and that means stick to the road and keep you on the bike,i ride very hard and i use all of the tire,i go out with a lot of experienced riders who also like to ride hard,and with Bridgestone 21s i feel just as confident as they do,and also to be honest i don"t really ride that much in the rain,but when i do i take it easy (i think) Ha and again there doing a perfect job ...............Defo recommend this tire
Given
100%
while driving a
Aprilia SL1000 Falco
(225/45 R17) on
mostly motorways
for 6,000
spirited
miles
I bought these because of the Mixed compounds as I am forced to do a lot of motorway riding. But when I can I love the lanes. I have a pair of BT021's and although maybe I haven't pushed them to their absolute limit, I don't hang about and they have given me nothing but confidence. And just to point out, there are no chicken strips on the sides!
I recently took part in a BikeSafe day with the Met Police and it rained and rained all day. I have never pushed a bike so hard in the rain before, even very very late braking, nearly missing a turning and the tyres never gave a hint of trouble.
On the motorways, well I don't hang about and the rear tyre has lasted well considering, only just starting to square off, but dont let that put you off.
Overall a great allrounder that I would buy again.
Given
77%
while driving a
Kawasaki ER6F
(160/45 R17) on
mostly country roads
for 4,500
average
miles
I've seen a lot of reviews of these tyres and they have been pretty shocking. I think this is partly down to people running the wrong pressures. The Kawasaki manual recommends 32psi front and 36psi rear. Running these pressures the tyres are shocking, to the point of not wanting to ride at all. However I emailed bridgestone and they told me the pressures I should be running. This has transformed the bike beyond belief. Lots of grip wet or dry, and I'm looking to hopefully get 5500 miles out of them. I wouldn't get them again as I want to try roadsmarts, but if I bought a new bike and 021s were fitted I'd leave them on.