The Michelin Pilot Road is a High Performance Summer tyre designed to be fitted to Motorcycles.
This tyre has been replaced by the Michelin Pilot Road 2.
Tyre Reviews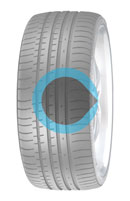 Sorry, we don't currently have any magazine tyre tests for the Michelin Pilot Road
Sorry, we don't currently have any label data for the Michelin Pilot Road
Sorry, we don't currently have any questions and answers for the Michelin Pilot Road. Why not submit a question to our tyre experts using the form below!
Ask a question
We will never publish or share your email address
Have you driven on the Michelin Pilot Road tyre?
Have YOU got experience with the Michelin Pilot Road? Help millions of other tyre buyers
Latest Michelin Pilot Road Reviews
Given
56%
while driving a
Honda CBR600 FS
(160/60 R17 W) on
mostly country roads
for 1,000
spirited
miles
They came on a CBR600F3 I bought to play around with, they were nearly new but I threw the front away as my experience with Road 2 had been so bad.
I thought I'd run the rear for a bit as the Road 2 wasn't all bad and I only went out in warm weather.
About a 1000 miles later I had got comfortable on it and forgot they are not a sports tire. Coming out of a tight corner I was nearly launched over the handlebars, a first I think for a dry ride on a 600 exiting on smooth tarmac.
The tire was gone and replaced with a Pirelli Diablo I had kicking about, never had anymore sudden losses of traction.
I did quite a few wheelies on the Pilot Road as well as one or two rolling burnouts which didn't seem to touch it so would work as a stunt tire. Otherwise take it easy, generally like the Macadams these tires are a liability, I'd think twice about running them on a 125.
Given
94%
while driving a
Acura 3.2 TL
(160/60 R17 W) on
track
for 0
easy going
miles
Bike: SV650S. I have had these tyres for just under a year & covered about 10k miles on them. The front tyre is still going and the rear one is being changed, the middle has flat spotted due to a motorway trip to Germany. These are very good tyres for all sorts of roads-from a motorway blast to a gravel dotted nadgery B road. They have very good feed back on all road surfaces and are very easy to control when they do start to go past the limit. The all over tread is confidence inspiring in all weathers and road surfaces. I am very happy with them and rate them as a good tyre, especially if you do good yearly mileage, and need a good all round tyre.
Given
87%
while driving a
Yamaha YZF 600r
(170/60 R17 W) on
a combination of roads
for 6,000
spirited
miles
Dry grip for these tires is remarkable for a sport touring tire. Wet grip is also very good, only spun the rear up a few times and only at 80+mph while pouring rain. Wear seems like it is also way above average. For comparison I eat through a set of pilot powers in 3,000mi. and these lasted a hair over 6,000 still tearing up the California Canyons. Will buy again :)