The Laufenn I FIT is a Touring Winter tyre designed to be fitted to Passenger Cars.
Tyre Reviews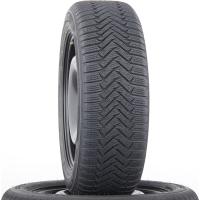 Sorry, we don't currently have any label data for the Laufenn I FIT
Sorry, we don't currently have any questions and answers for the Laufenn I FIT. Why not submit a question to our tyre experts using the form below!
Ask a question
We will never publish or share your email address
Top 3 Laufenn I FIT Reviews
Given
50%
while driving a
Toyota Auris
(205/60 R16 H) on
mostly country roads
for 1,000
easy going
miles
I would not recommend this tire, not even to my worst enemy.

The good: They were decent in the snow, they did not make a lot of noise and were extremely comfortable.

The bad; They were a budget winter tire in the most negative way possible: catastrophically bad in the rain and wet, I would say dangerous even. I did not feel at ease driving and I always felt like the next corner might be the last one, They would give me understeer and aquaplanning at slow speeds. They were slightly less bad in dry conditions. The tire would not communicate anything up until the point it would start to slide heavily.
Perhaps they were just not for me or my driving conditions, perhaps they would have been better on motorways but I took them off as soon as I could afford to and replaced them with something I felt was better.
Given
85%
while driving a
BMW 320i
(225/45 R17) on
a combination of roads
for 500
average
miles
I bought these as my first ever set of winter tyres and fitted them to my BMW 320i Sport Auto.
As most of you will be aware the 3 series is about as much use in snow as an ashtray on a motorbike and over the years I have been of the same opinion and the 3 series has sat at the house and the Yaris has done sterling service.
Now the Yaris has gone and the replacement TT is not up to much in the slippery stuff so I decided to bit the bullet and go winters. WOW, what a transformation it has wrought on the BMW. On summer tyres I could not get back up my driveway let alone approach hilly roads. Not any more, just point the car in the direction you want to go, press the pedal and you are on your way. The tyres are superb in snow, on ice, on wet or dry roads are all in all confidence inspiring. To early to assess wear, only 500 miles covered, but at the price, if they last two Winters I will be very happy.
The driving experience is a bit dull as the feedback is not on a par with my 19inch Summer tyres but if you drive them in adverse conditions with the same care and attention as you would with Summer tyres you cannot go wrong, they are not rally tyres.
I will buy them again and have no hesitation in recommending them for UK Winter use.
Given
43%
while driving a
Fiat Grande punto
(185/65 R15 T) on
mostly country roads
for 15,000
average
miles
Would not recommend these tyres. When they were new they were ok-ish in the dry, wet and pretty ok in the snow. After the second season the wet grip fell dramatically to even become dangerous. They do not give any hint of when they are going to slip. This is their 4th winter (oct 2020) season and they are just useless, better off with summer tyres.
Have you driven on the Laufenn I FIT tyre?
Have YOU got experience with the Laufenn I FIT? Help millions of other tyre buyers
Latest Laufenn I FIT Reviews
Given
60%
while driving a
Renault Fluence
(205/60 R16) on
a combination of roads
for 30,000
average
miles
I use these tires on a Renault Fluence in mid european winter conditions. I drove 4 years with them and i think these tires are very bad. Catastrophic on cold and wet roads. I can say that they are dangerous. The snow and ice grip is quite good. But where i live the winter is mostly wet and cold. We have snow only for a few days in the city. So the dry and wet grip is the most important for me when the average temperature is around 0 cels. , and in these conditions these tires are failed.
They were bought by the previous owner of my car a couple of months before I got it. I usually buy Hankooks and never had any problems with them, so I was happy learning that Laufenn is a Hankook brand.
Then I tried them...
While they are good enough on dry road and snow they become really scary in wet conditions. Sometimes they lose grip for no apparent reason and without warning even at low speeds.
The ride is pretty comfortable, but this doesn't make up for the "oh god, this time I'm going to die" sensation these tyres can give you on even slightly damp roads.