The Laufenn I Fit Ice is a Touring Winter tyre designed to be fitted to Passenger Cars.
Tyre Reviews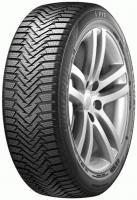 Sorry, we don't currently have any label data for the Laufenn I Fit Ice
Questions and Answers for the Laufenn I Fit Ice
2018-09-18 - Will the Laufenn I Fit Ice tire fit on my BMW X3 Xdrive 20d G01 2018 model?? I have factory installed 225/60 R18 104W XL - Rim 7JX18.
As long as the load rating and size matches what is specified by BMW there's no reason they shouldn't fit.
---
Ask a question
We will never publish or share your email address
Top 3 Laufenn I Fit Ice Reviews
Given
95%
while driving a
Subaru 04 WRX
(205/70 R15 R) on
mostly town
for 1,000
average
miles
This first set of I Fit Ice remains a price attractive product. The Lufenn tire model did better than expected and driving in the ice and snow with a Subaru Outback. I am pleasantly surprised at the handling and traction received. This Montana winter of 2016/2017 has been determined in this area to be one of the top 10 most undesirable winters on record. I have no regrets on my tire purchase and the handling I have received. This is a recent purchase and will have to wait to see how the tires wear.
Wears off within 15.000 miles. But that's fine, it's because it's made of very good rubber. It sticks to the road much better then my Pirelli winter tyres, for them I paid almost twice as much. EXCELLENT in deep snow and muddy snow. On cold dry roads you can feel that the tyre is made of quality rubber compounds as it doesn't sllp at all. I love it and my next tires will be all from this brand, hopefully their summer tyres are as good as their winter tyres.
Given
46%
while driving a
Volvo 2.0 T5 Saloon
(225/45 R17 H) on
mostly town
for 2,000
spirited
miles
I bought the tyres with the car. I've always driven my cars with mid-priced tyres. These were the worst experience ever. The tyres were almost new, good performance in the first few hundred miles. But then the first wet roads, I almost hit a fence, just making a turn that I can even do on ice with my other car. Foggy weather, wet roads today, extremely bad performance, long braking, slipping in curves. I've decided to change the tyres asap. Dry and snow was not so bad, but I had more problems starting than before.
Have you driven on the Laufenn I Fit Ice tyre?
Have YOU got experience with the Laufenn I Fit Ice? Help millions of other tyre buyers
Latest Laufenn I Fit Ice Reviews