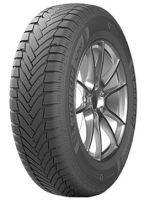 Michelin Alpin 6 Reviews (newest first) - Page 1
Given
82%
while driving a
Toyota Corolla
(205/55 R16) on
a combination of roads
for 5,000
average
miles
Tires are designed for mild winters. Excellent performance on dry asphalt, highway, high speeds, road serpentine. High comfort level, low noise level. During operation in snowy weather - average qualities.
Ok, I'm impressed with this tire! In snow/ice the grip is insane, the best winter tire I have tried for ages, so much grip and so much control. In this car, I went from Yokohama's winter tires, and the noise I measured in the car on the highway (120 km/t) was 73 dB, on a dry road, approximately 20 degrees Celsius with the old Yokohama. But with this new Michelin Alpin 6 (A6) I measured the noise to be 67-68 dB on the same road, at the same speed and same temperature! Incredible upgrade, it felt like a got a whole new car. I will say that I normally drive a bit more aggressively than others, and I love high speed. So I push the car and tires in the corners, and I have never lost it because of a bad grip. I feel totally comfortable with this tire, and it has never let me down. The only downside with this tire is when I'm holding still, and then accelerate and doing a left or a right turn on a wet road, and I press a little too much on the gas pedal, then my tires will spin a bit. But I guess that most tires will do that under wet conditions, so no deal-breaker for me here! after 5000 miles, I can't see any wear, so that's nice! I drive my tires in Denmark if that give any pieces of information for others :) For me, this is a very nice tire, and I will give it my highest recommendation, and I will buy it again.
Given
94%
while driving a
BMW 520d
(225/45 R17) on
a combination of roads
for 500
spirited
miles
Have them for a few hounders of km now. Ss soon as I put them on the car, the mud appeared on the road and the tires did their job properly. Even if they are mounted on a BMW 5 Series 520d automatic gearbox, RWD, with only 163 hp, on dry asphalt I managed to make them squeak at hard starts. The road feadback is great, as is the grip on wet and cold asphalt. I tested them in about 15-20 cm of freshly fallen snow, they did their job brilliantly, without slipping and giving me the impression of maximum safety. On a slope with a slope of 15-17%, the snowy road, I climbed with 50-60 km / h while others barely climbed with 30-40 km / h, even with front-wheel drive cars. After 4-5 sets of Pirelli WinterSottoZero and SnowControl Serie 2, a set of Dunlop Sport4D on different tyres, I switched to Michelin and I don't think I will change the brand of winter tires too soon. With these tires I feel safer than ever. I will update my review after I will drive them even more.
These were excellent tyres. The car handled beautifully on them, very secure and lots of grip. I didn't find them particularly heavy on fuel either but I was shocked that I only got one season out of them.
Given
76%
while driving a
Skoda
(205/55 R16 V) on
a combination of roads
for 3,000
average
miles
Tires are a bit noisy. Even though they are rated with speed index V I do feel very uncomfortable on speeds 130 km/h and above. Car is not keeping the line good with those tires. On snow an Ice it is just above average. I will by Continental next time.
Given
90%
while driving a
Honda Jazz
(185/65 R15 T) on
mostly motorways
for 3,000
average
miles
Best winter tyres ever!! Both on dry roads and sonw/ice. I am driving 185/65-R15...Great handling and road-feedback on dry roads and motorways. I mostly drive on dry roads at 5degrees celsius. I used Alpin4 in the past, but these new Alpin6 are much better. Great improvement, great control in every situation. I definitely suggest them to everyone with any winter condition.