The Nankang Econex NA1 is a Touring Summer tyre designed to be fitted to Passenger Cars.
Tyre Reviews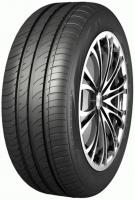 Tyre review data from 4 tyre reviews averaging 63% over 13,200 miles driven.
The Econex NA1 is ranked 115th of 202 Summer Touring tyres.
Latest Tyre Test Results
2015 Test World Summer Tyre Test - 14th of 15 tyres
Positive - Good resistance to aquaplaning
Negative - Weak grip and poor handling on wet surfaces. Low level of comfort
Overall - The Nankang Econex NA-1 have long braking distances and a very weak lateral grip on wet surfaces. Sharp manoeuvres are unlikely to succeed because the tyres can dramatically lose contact with the road. However, they have good resistance to aquaplaning. In the dry the situation is somewhat better, but they don't cope well enough with emergency situations. Not very effective at absorbing road irregularities, and noise is clearly audible in the cabin. Only average fuel economy.
View Full Test >>
Sorry, we don't currently have any label data for the Nankang Econex NA1
Sorry, we don't currently have any questions and answers for the Nankang Econex NA1. Why not submit a question to our tyre experts using the form below!
Ask a question
We will never publish or share your email address
Top 3 Nankang Econex NA1 Reviews
Given
50%
while driving a
Skoda Estelle 130
(165/80 R13) on
mostly country roads
for 200
average
miles
Its hard to get a decent 165 R13 tyre these days. Its either no-name budget tyres or £200 plus per tyre specialist ones. What happened to the middle ground? These tyres are pretty much it for that area now.

I bought two for my Skoda Estelle 130. They went on the rear, but honeslly the handling is now horrible - the sidewall is too soft so the car feels like its on a waterbed, wobbling and lurching. So I moved them to the front and here they are tolerable.

Its like Nankang never bothered to actulaly try these tyres on the road and just made them and sold them. I ended up ordering Vreidestein Sprint + online but these are now discontinued. The Spring + are fine, no lurching.

To sum up, Nankang sucks the fun out of driving and leaves your passengers feeling queasy.
Given
77%
while driving a
Citroën xsara picasso
(185/65 R15) on
a combination of roads
for 500
easy going
miles
Decent tyres for the price.
Handle the road well both dry and wet conditions.
Comfortable drive but not the quietest.
Would reccomend 100%
Toyota
(175/65 R15) on
a combination of roads
for 12,000
easy going
miles
Super tyres for handling. Came with only 6mm tread when new, and the little transverse fins are only 4mm so when the main 3 radial grooves are half worn the left and right edges are about bald. Need to replace at 12k miles when I usually get 18k
Have you driven on the Nankang Econex NA1 tyre?
Have YOU got experience with the Nankang Econex NA1? Help millions of other tyre buyers
Latest Nankang Econex NA1 Reviews
Given
62%
while driving a
Volkswagen Golf
(195/65 R15 H) on
a combination of roads
for 500
average
miles
I took a chance with Nankang as it was the only tyre in my price range at the time... I've since done approx 500 miles so not enough chance for them to wear in fully... They seem fairly decent for £45 fitted for the 195/65/R15 size. They seem very planted when it comes to deep standing water but cornering in the wet leaves a little to be desired. They feel a little lacklustre and can sometimes run wide with no warning. Last time I experienced a tyre like this was the Toyo Nano Energy 3's and they were truly a terrible tyre (worse than budgets I have had in the past), so lets hope they don't turn into the Toyo disaster that happened last time. If they last longer than my last set of tyres (Nexen N'Blue HD Plus) I will be satisfied. Will report back with Further findings once they have worn in fully!