Vredestein Sprint Classic
The Vredestein Sprint Classic is a Touring Summer tyre designed to be fitted to Passenger Cars.
Tyre Reviews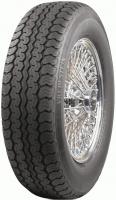 Sorry, we don't currently have any magazine tyre tests for the Vredestein Sprint Classic
| Size | Fuel | Wet | Noise | Weight |
| --- | --- | --- | --- | --- |
| 205/60 R13 86V | | | | 7.55kgs |
| 135/0 R14 70S | | | | 5.40kgs |
| 165/0 R14 84H | | | | 7.15kgs |
| 175/0 R14 88H | | | | 7.75kgs |
| 185/70 R14 88V | | | | 7.70kgs |
| 195/70 R14 91V | | | | 7.81kgs |
| 155/0 R15 82S | | | | 6.95kgs |
| 185/0 R15 91V | | | | 8.81kgs |
| 215/60 R15 94W | | | | 9.87kgs |
| 185/70 R15 89W | | | | 8.71kgs |
| 215/70 R15 98W | | | | 11.14kgs |
Questions and Answers for the Vredestein Sprint Classic
2018-02-18 - Hi I have a e type I shipped from the states I have sprint classics 185 on my series 2 .Can u tell me the correct tyre pressures front & back thanks
The tyre pressures for the Sprint Classic will largely be vehicle dependant. I suggest visiting an E Type forum and seeing what other people are running for your version of the vehicle.
---
Ask a question
We will never publish or share your email address
Top 3 Vredestein Sprint Classic Reviews
Given
83%
while driving a
Jaguar MK2
(185/80 R15) on
a combination of roads
for 5,000
spirited
miles
I bought a set of Vredestein Sprint Classic tyres for my MK2 Jaguar. I've driven these cars over high mileages for the last 30 years during which time I have also worked as a professional restorer and component manufacturer so I consider that I know these cars very well. Before fitting the tyres I completely overhauled the steering and suspension with all wearing parts (including the stub axles) replaced. I spent 6 hours setting the camber, caster and steering geometry correctly. As a result the car handles and holds the road astonishingly well on these tyres. The steering (non power assisted) is light and progressive and the car will leave most modern traffic on sweeping A roads without any drama. The tyre wear is completely even and the car is a complete joy to drive. These are mid priced tyres but I honestly can't see the point of spending any more money than this for fast road use. In my experience, if your MK2 doesn't drive superbly on these with light, pleasant steering then it's the car which is at fault, not the tyres.
Given
76%
while driving a
BMW 3.0 Csi
(205/70 R14 V) on
a combination of roads
for 2,000
easy going
miles
I needed a set of tyres to replace the elderly Michelin XWXs on my car. At the time of buying the Sprint Classics there really was only those and the Michelins available in the 205/70/VR14 size. I opted not to go for another set of XWXs as they are fairly prohibitively expensive. So far the Vredesteins feel very grippy and smooth. I do not drive like a maniac so I haven't thoroughly put them through their paces but so far I am more than happy with their performance. I think they look great and really suit the 70s styling of the car. Having said that, I doubt I'd buy another set as the previously mentioned 'dents' in the sidewalls are pretty unsightly particularly when considering the tyres aren't exactly cheap and being meticulous about period detail, it's an annoying niggle. Having said that, again – there are no other VR tyre available at a non-insane price.
Given
77%
while driving a
Triumph TR6
(185/70 R15) on
mostly country roads
for 5,000
average
miles
Have a set of these on my 1974 TR6. She has 5.5J wire wheels, and the tyres are just great. Why pay more.
Have you driven on the Vredestein Sprint Classic tyre?
Have YOU got experience with the Vredestein Sprint Classic? Help millions of other tyre buyers
Latest Vredestein Sprint Classic Reviews
Given
63%
while driving a
Triumph TR6
(165/80 R15) on
a combination of roads
for 4,500
average
miles
I put on the TR6 four and a spare new tyres 165/80x15 HR prior to re registering as a Historic Vehicle here in Spain in 2017. Since the completed restoration in 2017 it has travelled minimum mileage approximately 7,000 Kms about 4,500 miles. I had occasion the take the wheels off the car to clean them and the tyres, to keep the same appearance as the rest of the car and noticed to my dismay and worry that nearly all the road tyres were showing signs of cracking around the inside wall of the tyres..They are correctly looked after wheel covers on the tyres increased tyre pressures on lay up thought the TR is used on average once a month. I have notified both the On-line sellers 1001Nuematicos but they have not responded at all. Vredestein are burying their head in the sand. I have also sent photos of the tyres.to them both I wouldn't deal with either of them again. Why should I have to buy new tyres after 5 years?
Given
30%
while driving a
Matra Djet
(155/80 R15) on
mostly country roads
for 3,000
spirited
miles
These were fitted to my Djet by a previous owner. My priorities are: wet braking, wet lateral grip (slick roads, not deep puddles) & progressive & talkative behaviour on the limit. I have no interest in comfort or longevity & prefer to have a short life, wet road friendly, soft compound tyre. Wet braking was ok but I considered them appallingly poor on most of my priorities. Instant plough understeer that was difficult to tune out with tyre pressures (I ended up with 39 psi fronts & 31 psi rears on a mid-engined vehicle!) & general unresponsiveness to inputs (initial & corrective) & low wet grip levels were notable. Shifting to my current Continental PremiumContact2s transformed the car's behaviour on each of my priorities.
The 155/80-15 size is an awkward one for anything decent in tyres & were I to be motivated to return to 15" wheels, then the FF soft compound version of Michelin's Xas seems likely to be a better proposition (I found the regular Xas rather good in the wet & very taut in structure when used on past vehicles).
So: I don't recommend the Vredestein unless pootling about on dry roads is all you'll do.
Given
84%
while driving a
Mercedes Benz 190SL
(640/80 R13 S) on
mostly country roads
for 2,000
spirited
miles
Excellent tyres for a classic, high sidewall crossply sizes in a radial so look great on the car but also drive very well. They all have "dents" on the sidewalls which is due to how they are made, more about that on Pistonheads forum. As might be expected with a high sidewall tyre they are sensitive to tyre pressures so you'll need to experiment to get that right. My wheels needed tubes fitted which is no problem with these tyres. Overall very happy and will certainly buy again.
Given
91%
while driving a
Jaguar EType 4.2 1969
(185/55 R15 R) on
mostly country roads
for 5,500
spirited
miles
Fitted on an 4.2 E-Type. Initially slightly concerned about the relatively low price tag, most if not all concerns are now gone. Grip on track (Goodwood), Swiss mountain roads (Gr. St-Bernard/Furka/Stelvio) and Surrey country lanes in dry weather is simply impressive. Pushing the car into corners squashed on the driver's door, the tyres don't squeak, fade or slide. Transforms the already wonderful "performance classic" experience into a very affordable one. (Thank you Vredestein for this privilege!). On the downside, not as good on wet (might be the car) - so care needed there. The tyre walls also appear to warp quite a bit. Very little found on the internet about this. Hoping it is actually safe, it does not seem to alter the performance. The look is excellent too. All in, unless pure originality is of the essence, the Sprint Classic's appear the be "THE" choice for most classic car owners.
A great tyre for classic cars. My car takes an unusual size and my only other choices were a Michelin classic tyre at almost £400, or budget tyres for about £60. The Vredesteins in this size were about £150 (other, more common, sizes in this tyre are cheaper) and are perfect in appearance and performance. The high profile means the feedback is somewhat vague, but that's more a factor of the size/profile than the tyre quality - you can't expect more from a 1976 comfort-barge!
I can't comment too much on the progressiveness, because I don't corner the old girl that hard, but grip is excellent in all conditions, even pushed a bit.
Best of both worlds - grips like a modern tyre, looks like a classic tyre.