The Nitto NT01 is a Trackday and Competition Summer tyre designed to be fitted to Passenger Cars.
Tyre Reviews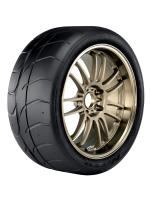 Sorry, we don't currently have any magazine tyre tests for the Nitto NT01
Sorry, we don't currently have any label data for the Nitto NT01
Sorry, we don't currently have any questions and answers for the Nitto NT01. Why not submit a question to our tyre experts using the form below!
Ask a question
We will never publish or share your email address
Top 3 Nitto NT01 Reviews
Given
76%
while driving a
BMW m2
(225/45 R17) on
track
for 5,000
spirited
miles
Well, I can only speak of my personal track experience, but I've heard the same from fellow instructors and racers. I've had Sport Cup 2s, RE71Rs, and NT01s on my M2 for multiple track events at the same circuits. I was consistently putting in lap times that were 2 seconds faster around the 1.53 mile Lime Rock track (high 0:59 laps) with the NT01s or RE71Rs, as relative to the SC2s. I saw roughly the same wear rates between the SC2s and RE71Rs (about 4-5 days before the tires were heat cycled out), while the NT01s easily went for a minimum of 10 days and continued to get faster until the chords. Aside from fastest single lap times and wear rates, a more interesting aspect to these tires is how they reacted to being pushed. Both the RE71Rs and SC2s were good for a fast lap or two before they overheated and started to get greasy, needing a few laps to cool down. The NT01s were consistent for a full 20 minute session of fast laps. Not as precise feeling as the RE71Rs, a bit of a blunt instrument, but extremely grippy and better break away characteristics than the RE71R. Given that I accomplished the same times with the NT01s as with the RE71Rs, while they cost the same but last twice as long, the NT01s are still the best track day tire I have driven to date. With regards to wet driving, the NT01s are fine in light rain once warmed up. But they will hydroplane in any standing water.
Very VERY sticky tyre when warm.

Used as grip tyre in the front on a pair of 18x9.0" wheels.

Stuck to the road much like shit to a blanket.
Brilliant tyre and will buy again!!

Dry grip is insane and on a heavy car they warm up pretty quick as you would expect from a semi slick.

With 100 wear rating, they have done about 8 track days and still grip even at the tread indicator level. So definitely great value even at the recent price increase.

Can happily drive on light rain but you would be mad to drive them on heavy rain.

Only bad thing about them on a heavy car is that they heat up after about 6 or 7 laps. Possibly not a concern for lighter cars.


Have you driven on the Nitto NT01 tyre?
Have YOU got experience with the Nitto NT01? Help millions of other tyre buyers
Latest Nitto NT01 Reviews
Given
66%
while driving a
BMW m4 cs
(305/35 R18) on
track
for 3,000
spirited
miles
Pros: wears like iron, has good dry grip even down to 15C, but not so good where you get away with bad driving. Cons: hydroplanes on standing water, is a bit noisy, One of the best values in track day tires that can be driven on the street.
Given
74%
while driving a
Ford Mustang gt
(225/45 R17) on
a combination of roads
for 10,000
spirited
miles
Very good dry traction with these tires. Hard to even spin the tires off the line. However, keep a watchful eye for standing water as this tire does hydroplane in wet conditions. Otherwise, regular wet traction is pretty good as well. Painted lines and markings on the road do not go well with this tire too. Especially when wet.
Given
87%
while driving a
Renault Clio RS200
(215/45 R17) on
a combination of roads
for 7,000 miles
Insane dry grip great handling.. a quite noisy but i don't personally care about that.