Goodyear Eagle F1 SuperSport R
The Eagle F1 SuperSport R further increases grip levels and steering precision on and off track when compared to the SuperSport. Grip levels are enhanced through use of a high-friction compound that provides exceptional dry grip levels, while excellent cornering stability is ensured by bridges in the tread pattern's inner groove reducing deformation of tread blocks under extreme cornering forces. Steering precision and feedback have also been further enhanced by optimizing the tyre's footprint for more consistent pressure distribution.
Tyre Reviews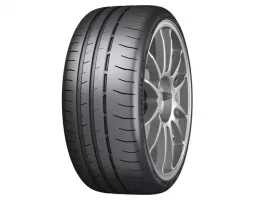 | Size | Fuel | Wet | Noise | Weight |
| --- | --- | --- | --- | --- |
| 205/40 R18 86Y XL | | | | 9.00kgs |
| 235/35 R19 91Y XL | | | | 9.93kgs |
| 235/35 R19 91Y XL | | | | 9.93kgs |
| 245/35 R19 93Y XL | | | | 10.24kgs |
| 245/30 R20 90Y XL | | | | 11.40kgs |
| 265/30 R20 94Y XL | | | | 12.61kgs |
| 285/30 R20 99Y XL | | | | 12.61kgs |
| 265/35 R20 99Y XL | E | C | 72 | 11.47kgs |
| 325/30 R21 108Y XL | E | C | 73 | 15.61kgs |
Sorry, we don't currently have any questions and answers for the Goodyear Eagle F1 SuperSport R. Why not submit a question to our tyre experts using the form below!
Ask a question
We will never publish or share your email address
Eagle F1 SuperSport R Prices
YouTube Review
Have you driven on the Goodyear Eagle F1 SuperSport R tyre?
Have YOU got experience with the Goodyear Eagle F1 SuperSport R? Help millions of other tyre buyers
Latest Goodyear Eagle F1 SuperSport R Reviews
From the beginning you feel the stiffnes of the structure. They are difficult just to place on the rim (keep in mind, good tools needed). Driving you really feel everyithing from below. Grip is quite good, but at the limit it drops quite fast, there is not such a good transition. They are still predictible, but it is a little more difficult to be consistent on a good lap time. In dry they warm up quite quickly and may require some pressure adjustment on track to avoid having too high air pressure. In these cases the tyre starts sliding a lot. On the other side, no much heat is needed in case of rain and if there is not much water they have quite a good grip. The outside longitudinal channels should go closing with tyre wear, so I expect some more reduction in aquaplaing performance. Comfort is not what they were ment for. Suprisingly they are more noisy as new than after a couple of trackdays. Wear: they are not the softer ones and they not really get like glue, so the initial feeling is that they may give some reasonalbe milage. In summary, a plus for the decent grip when cold, I like to steering feeling within the limit. Just not completely convinced from the feeling when the grip break (91Y load-speed codes)
Given
69%
while driving a
BMW E92 M3
(265/35 R19) on
mostly country roads
for 1,000
spirited
miles
Very good tyre in terms of feeling and progressivity. Easy to slide and very predictable. Low traction by low temperature (below 15° Celsius), needs proper warm up to grip. Not faster than road speed limits under the rain, but not scary. Wears quickly if you use them often on the limit, which the tyre pushes you to do!
Mitsubishi
(225/45 R17) on
mostly country roads
for 900
average
miles
Excellent tire in the dry. with stiff sidewall!