The Sailun Ice Blazer WST3 is a Touring Winter tyre designed to be fitted to Passenger Cars.
Tyre Reviews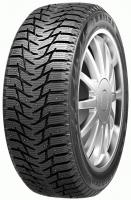 Tyre review data from 2 tyre reviews averaging 58% over 22,500 miles driven.
The Ice Blazer WST3 is unranked of 88 Winter Touring tyres.
Latest Tyre Test Results
2019 Studded Winter Tyre Test - 8th of 8 tyres
Positive - Non mentioned.
Negative - Very poor grip on snow and ice, poor handling in the dry and wet.
Overall - Not recommended. Not only poor grip, but the tyres started to lose spikes in the first 80 km.
View Full Test >>
Sorry, we don't currently have any label data for the Sailun Ice Blazer WST3
Sorry, we don't currently have any questions and answers for the Sailun Ice Blazer WST3. Why not submit a question to our tyre experts using the form below!
Ask a question
We will never publish or share your email address
Have you driven on the Sailun Ice Blazer WST3 tyre?
Have YOU got experience with the Sailun Ice Blazer WST3? Help millions of other tyre buyers
Latest Sailun Ice Blazer WST3 Reviews
Firstly these tires have a version with and without studs- I use them WITH studs as that is allowed here. Secondly, I have used these tires on my previous car also for about 25 000 kilometers Thirdly all my cars are Quattro so that may change some things. I have heard quite a lot of negative feedback about these but all from small front-wheel-drive car users, don't know anyone with an RWD car so can not comment on that. For me, these are really nicely controllable tires in snow and also on ice. I do not have any experience with premium category tires but to date, these are the best I have used. I'm quite an aggressive driver in winter and I love the control over both of my cars going sideways with these tires. Also, I have never had any unpredictable or uncontrollable situation with these not going straight or in corners. Any coming slippage can be felt in and corrections can be made in advance. The suds stay nicely in place (of course after running in tires correctly of course). In my other car after 25 000 kilometers, most of the studs are still in place, there are on a tire with 6 missing and that is the worst one. The thread also looks ok and I estimate that 30 - 40 thousand kilometers can be achieved if nothing suddenly changes in the performance later one. I'm not really sure that this will help anyone but if you use an all-wheel-drive car and studs are allowed in your region I suggest to trie them out as the price are quite good in my opinion.
Given
39%
while driving a
Opel Insignia B
(245/45 R18) on
a combination of roads
for 20,000
spirited
miles
Yes, these tyres brake and accelerate on snow and ice but the grip in corners is awful and dangerous, you will never know when the powerslide starts. Really dangerous tyres to drive in winter conditions. Not recommended. Save some money and buy atleast Hankooks.