The Tristar Ecopower 2 is a Touring Summer tyre designed to be fitted to Passenger Cars.
Tyre Reviews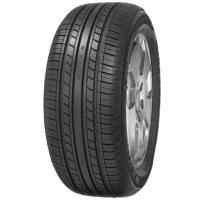 Sorry, we don't currently have any label data for the Tristar Ecopower 2
Sorry, we don't currently have any questions and answers for the Tristar Ecopower 2. Why not submit a question to our tyre experts using the form below!
Ask a question
We will never publish or share your email address
Have you driven on the Tristar Ecopower 2 tyre?
Latest Tristar Ecopower 2 Reviews
MG
(205/45 R17) on
mostly motorways
for 8,000
average
miles
This is for the cross climate all weather tyre for Tristar which is one of their economy brands.

Caused the tail to spin out in the wet on a corner.

Front tyres held like superglue but if the tail's going out even god himself can't change the laws of physics.

Don't rely on them as all weather at all. They really don't hold quite as much as you'd like but they usually give you some warning when the tail end is slipping.

However given I ended up facing the wrong way on an entry ramp because of them I won't be buying them again. Fine tyres for just a commuter but not to be relied upon when you ACTUALLY need lateral grip.