The Uniroyal AllSeasonExpert is a Premium Touring All Season tyre designed to be fitted to Passenger Cars.
This tyre has been replaced by the Uniroyal AllSeasonExpert 2.
Tyre Reviews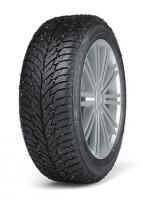 2017 Tyre Tests

2016 Tyre Tests

2015 Tyre Tests

2014 Tyre Tests

2013 Tyre Tests
Sorry, we don't currently have any label data for the Uniroyal AllSeasonExpert
Sorry, we don't currently have any questions and answers for the Uniroyal AllSeasonExpert. Why not submit a question to our tyre experts using the form below!
Ask a question
We will never publish or share your email address
Top 3 Uniroyal AllSeasonExpert Reviews
Given
70%
while driving a
Ford Puma 1.7
(195/50 R15 H) on
a combination of roads
for 8,000
spirited
miles
Amazing in the snow and on ice. Not different than winter tyres, more or less. On wet has solid aquaplaning abilities, but not perfect in emergency braking.
Quiet and refined on higher speeds. Solid on bumps, etc.. Wear is barely visible from 12k km.
But... not solid for aggressive driving (Rather soft board), can't replace a summer tyre if you push the car to the limits on twisted roads, in hot summer days. Braking in summer is a bit worse that summer tyres.

Given
91%
while driving a
BMW X3 2.0d Sport
(235/55 R17) on
a combination of roads
for 1,000
spirited
miles
A lot better than my old pirelli scorpion tyres beter handling better grip on wet roads braking distance as well short than on pireli.
Overall a good Allseason tire with one big drawback. Its very loud.

The tires are now 2 1/2 years old an run 49500km (30800 miles for you strange people in the UK/USA)
Wear is great. Front tires still got 5mm profile left. Rear tires are around 7mm.
Wet performance was nice too. never had problems with rain or was scared of aquaplanig.
Steering feel ?.... there is none!

Biggst problem is the noise the make. I even turn up the radio volumen more then I would like to.
The tire may would last 1 or even 2 years longer. But I will shwitch to proper summer touring tires.

Have you driven on the Uniroyal AllSeasonExpert tyre?
Have YOU got experience with the Uniroyal AllSeasonExpert? Help millions of other tyre buyers
Latest Uniroyal AllSeasonExpert Reviews
Given
98%
while driving a
Suzuki
(195/45 R15 S) on
mostly country roads
for 2,000
spirited
miles
superb in snow and ice
superb for country lanes
great in wet conditons