2009 Sport Auto Performance Winter Tyre Test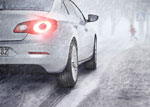 It might still be August, but after an unusually snowy start to 2010 talk has already turned to winter tyres in the UK.
While we're waiting for the magazines to put together their 2010 winter tyre tests, here's one of the more interesting articles from 2009. This test is particularly good as it uses a powerful RWD car (Mercedes SLK350) which wears relatively wide 225/45 r17 performance tyres.
Each of the 8 tyres were tested in the snow, on wet roads and in the dry with the scoring emphasis bias towards wet weather and snow performance (these are winter tyres after all!)
While there's little difference between the tyres in the dry, the differences become more obvious in the wet and on snow. Sport Auto give four of the tyres the their ??highly recommended?? award - Continental Winter Contact TS 830, P Pirelli Sottozero Series 2, Dunlop SP Wintersport 3D and the Goodyear Ultra Grip Performance 2.
Here are the full results:
Total: 248
Dry: 66
Wet: 87
Snow: 95

Very good braking performance in snow, rain and the dry. Consistently high level of grip in wet and snow.

Average aquaplaning performance


Read Reviews

Total: 242
Dry: 65
Wet: 89
Snow: 88

Very balanced and good grip levels. High traction and braking performance in snow and rain

Light compromising steering precision on dry roads


Read Reviews

Total: 240
Dry: 62
Wet: 96
Snow: 82

Excellent level of grip and very good handling in wet conditions. Good aquaplaning properties

Not very balanced handling in snow


Read Reviews

Total: 235
Dry: 57
Wet: 81
Snow: 97

Excellent winter performance, aquaplaning best performance in the test. Good level of grip when wet

Average braking performance on dry roads


Read Reviews

Total: 206
Dry: 64
Wet: 68
Snow: 74

Balanced handling and acceptable delay on snow. Good handling characteristics in drought

Poor aquaplaning properties. Gentle traction on snow


Read Reviews

Total: 197
Dry: 65
Wet: 52
Snow: 80

Precise handling and good braking performance in dry conditions. Good traction on snow

Lower grip levels and poor brake performance in wet conditions


Read Reviews

Total: 191
Dry: 53
Wet: 71
Snow: 67

Good aquaplaning performance. Safe, understeer bias in the wet and snow

Poor wet and snow grip levels


Read Reviews

Total: 189
Dry: 61
Wet: 71
Snow: 57

Very precise handling and grip in the dry

Average grip, traction and braking performance in snow and rain


Read Reviews
Discussion:
comments powered by